3rd Quarter 2022 | Volume 1: Issue 4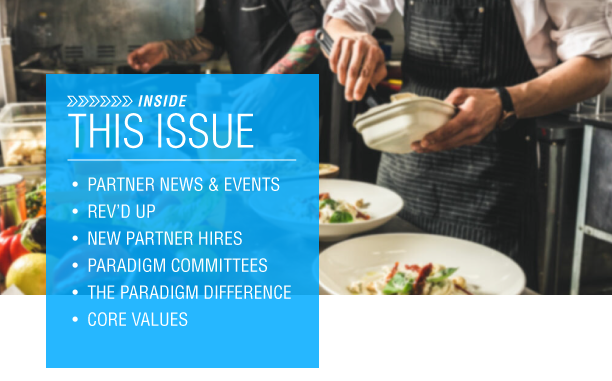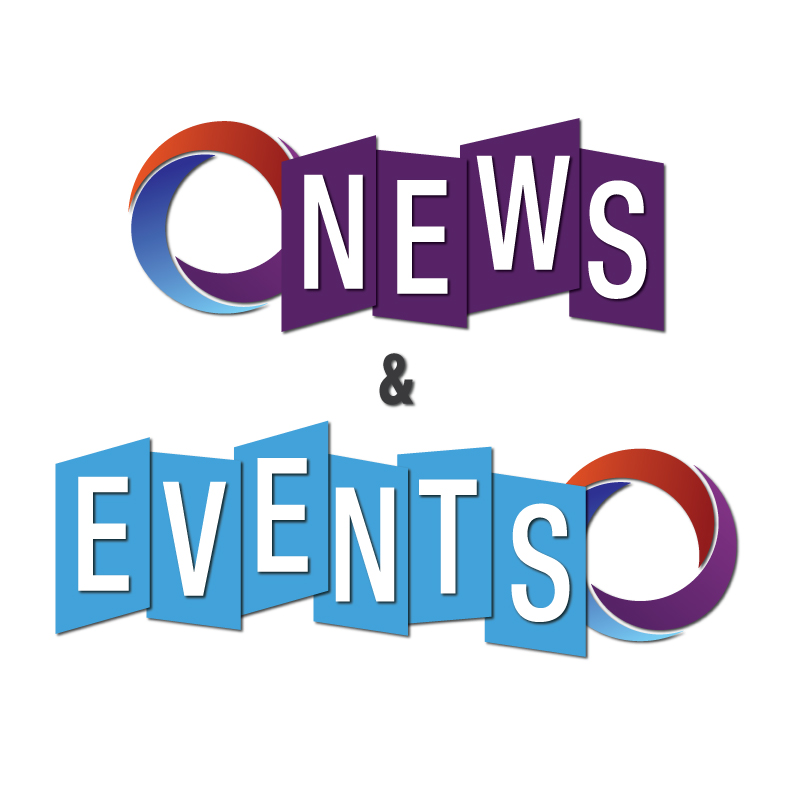 The Paradigm Partners had a fast and furious 3rd Quarter of 2022!
Click below to check out all of the news and events!

2023 PLANNING
All Paradigm member companies are currently wrapping up the process of setting their 2023 annual plans. By taking the time to lay out this territory landscape, our teams are creating detailed plans of existing or targeted volume for multi-units, dealer category conversions, and specification conversions for consultants and design dealers.
Every year our annual plans build and grow off of the previous and become more detailed. To align with our Paradigm Proven Process, growth targets will be tracked in a 9-stage process and reported on via a quarterly pulse to our premier manufacturers.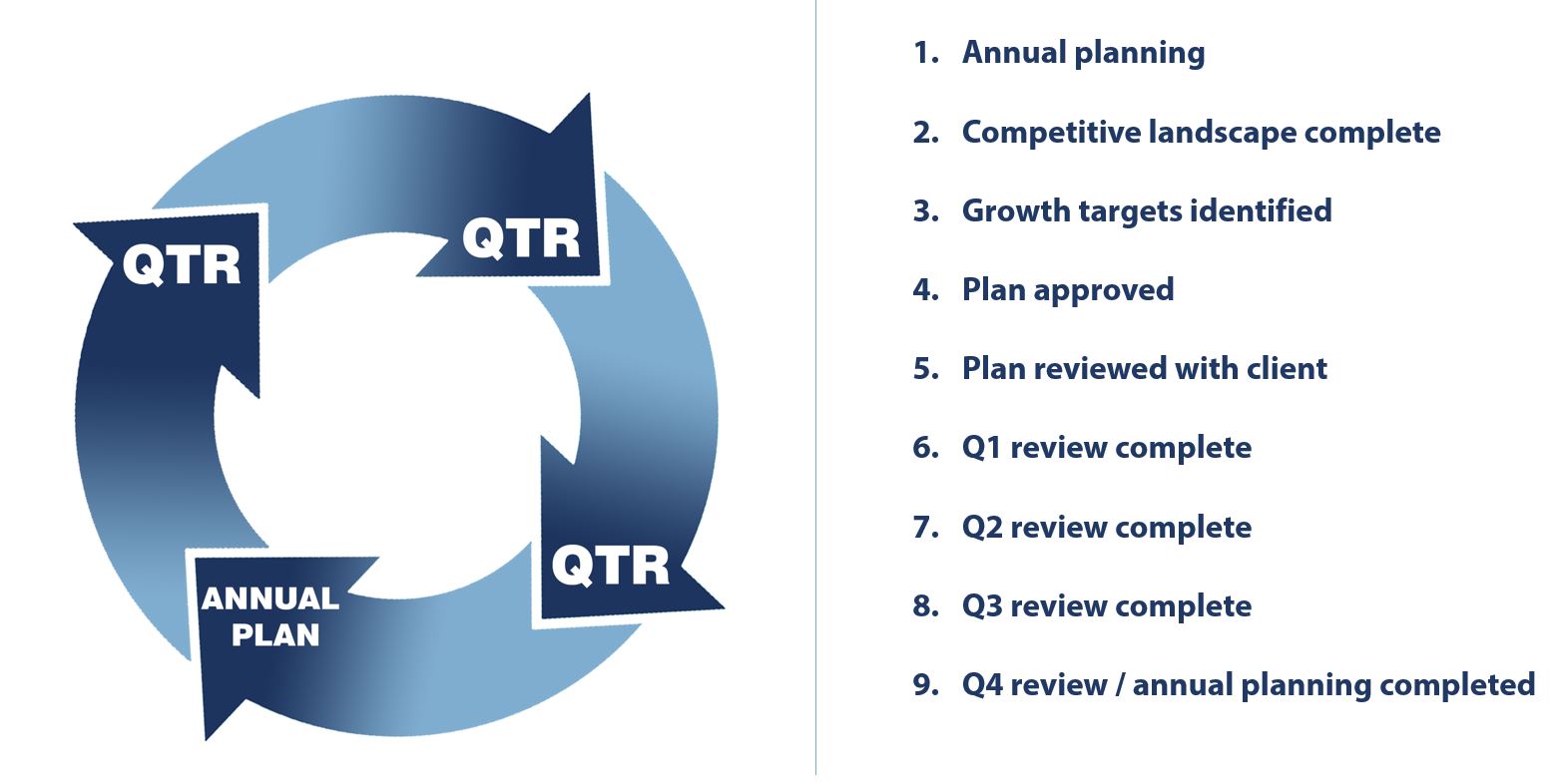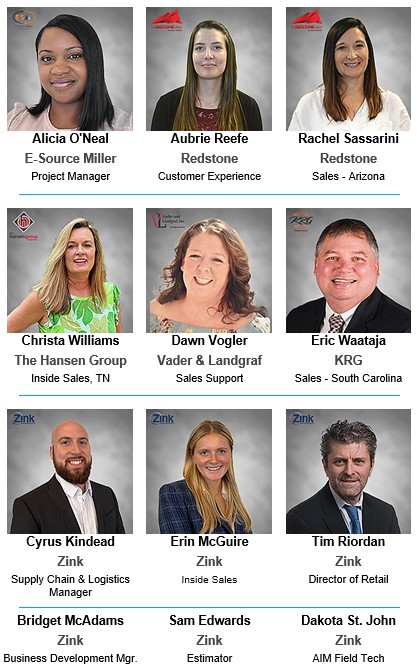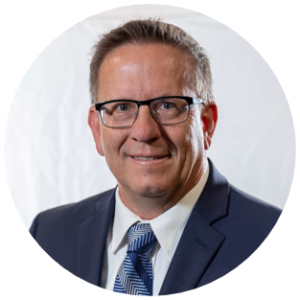 NEW STRATEGIC ACCOUNT COMMITTEE
Strategic Account Committee met for a Vision Building Day hosted by E-Source Miller in October with Jeff Griffiths leading as facilitator. This committee includes:
Claudia Harry-Hansen Group, Freddy Macdonald-PMG, Chris Kannawin-Redstone, Josh Mehling-Zink, B.C. Roberts-KRG and Jeff Swindle-ESM and Dave Schwefler as our Leadership Chair.
Our committee Goals:
• REV shared dashboard for multi-units
• Identifying the top 200 chains and what level of penetration we have across core brands
• Full transparency in sharing information, leveraging shared services where possible
One of the key missions is to target emerging multi-unit accounts, getting in early and building our brands up across all foodservice equipment platforms from back of house to front. Defining what is emerging, growing and strategic will be helpful for our Paradigm Partners to identify targets in each territory and be same page in our presentations back to our factories. This discussion was in great timing as Jim Courtright, VP of Sales for Welbilt was in town and stopped in for a candid conversation of Ali Groups viewpoint of Strategic Accounts. Reps will continue to play a very important role in strategic account growth.
The Strategic Accounts Committee is committed to make it easy for our premier factories and our customers to work with our Paradigm Partners when it comes to emerging, growing and strategic accounts. We will define pathways for a seamless experience providing unparalleled service promoting our factories and our partners across state and international lines.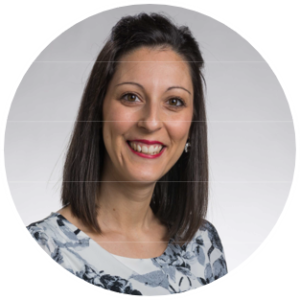 REV TECHNOLOGY COMMITTEE
As the thought leaders for long term innovation and development for the REV, our focus this quarter is finalize our AQ API project and roll out with all Paradigm members. This allows seamless communication between our quoting information in AQ syncing with the REV to maximize data and streamline the opportunity creation process. Last quarter we updated you on our orders and quote case systems, now we are developing next steps to roll this out for all Paradigm members and identify how these processes can work together and be as efficient as possible.
We are analyzing the recent results of our REV Survey that all Paradigm members took to determine REV proficiency levels and what training needs offered. Along with this we are developing a roadmap for future REV Development projects. Our focus is to always make the REV better and to solve business challenges for our Paradigm members and to make the information flow smooth for our premier manufacturers.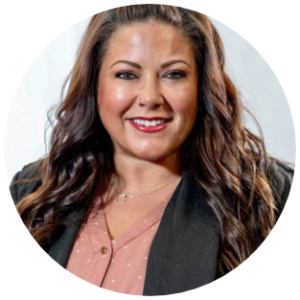 INSIDE SALES COMMITTEE
To further our goal around sharing resources, ideas and best practices to provide our customers with world class customer service, we are working on REV case training. Utilizing an email to case system for processes such as PO's allows us to have multiple people handling the process, information & data captured, and visibility to the entire process from received to completed.
Our inside teams are working on a toolbox of information for all Paradigm members to use including quote training, back office protocols, REV training, and the spec credit process.
We are working alongside the REV committee to determine automations that will help us follow up on regular processes like notifying dealers of PO's on hold and allow for better communication for our dealers and manufacturer contacts.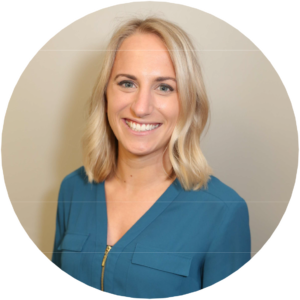 MARKETING COMMITTEE
As part of our objective to create templates and tools for all Paradigm members to successfully execute marketing our focus this quarter is to continue to build out our Marketing Toolbox. This quarter we are adding training templates for our social media and email marketing programs as well as a guide on how to utilize REV Dashboards to keep track of marketing projects and provide statistics and reporting on all email and social media campaigns.
Our goal for early 2023 is to produce a Paradigm Annual Report including key measurables that Paradigm has accomplished over the year, committee updates, and Paradigm collaboration stories to show how Paradigm is leading the reinvention of Foodservice.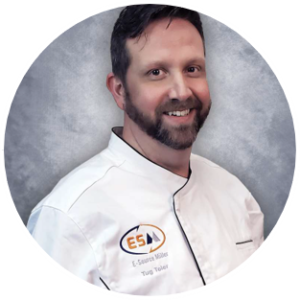 CULINARY COMMITTEE
Our goal is centered around Paradigm members successfully executing professional culinary videos, podcasts, and social media posts surrounding culinary. This quarter we have plans to produce several podcasts, feature & benefit videos, recipe videos and instructional videos. We are looking at a culinary brand champ program that showcases certain Paradigm chef's for their expertise around a particular piece of equipment or cooking method.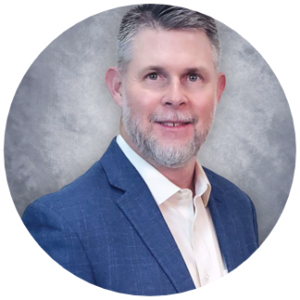 OUTSIDE SALES COMMITTEE
Our team gathered in person for an annual meeting /vision building day in late October. The meeting was hosted in Dallas by E-Source Miller with Patrick Malloy helping as facilitator. This committee includes: Tim Zink-Zink, Chris Folz-Redstone, Mike DeRosia-Vader and Landgraf, Michael Riley-Hansen, Chris Kyriakou-Collis, Gabriel Samano-PMG, Ryan Morris-KRG, Matt Swain-Kain McArthur, Chris Mulholland-Zinc, Greg Morris-ESM.
This was a fun meeting, and we appreciate everyone taking their time to attend the meeting. We focused on the remaining Q4 2022, and set the plan for 2023.
Q4 – This quarter our focus is to install and finalize the annual planning process for each Paradigm member. Prior to NAFEM we'll be streamlining the process for presenting these annual plans to our key premier manufacturing partners.
2023 – To set the vision for 2023, we produced a mission statement for this committee.
"The Paradigm Outside Sales Committee focuses on hiring and developing the industries' most elite salesforce. We create best practices that provide an unparalleled experience for our partners and ensure the success of our teams. Collectively we foster a collaborative and competitive environment that elevates the individual performance of our organizations."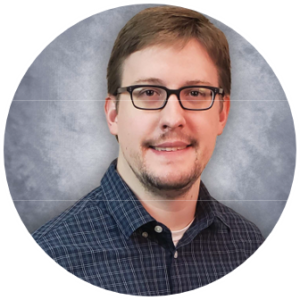 EDUCATION COMMITTEE
Our focus is to develop a structured learning tools to improve the way Paradigm members do business and strengthen their professional development. This quarter we are working on summarizing and aligning our Paradigm onboarding program for new employees. As part of professional development goal, we are working on surveying the Paradigm team to determine the content of our next professional seminar.
Our committee is working in collaboration with the REV committee to develop Learning Paths within the REV to house training courses for individual Paradigm members customized to their role and REV proficiency levels. Currently, we are working to build out REV 101 training, annual planning training modules, mobile app training, and Pre-Call planning.
INNOVATION
Through collaboration, transparency and trust, Paradigm has redefined the standard for multi-line representatives. Our relentless pursuit of excellence aligns our members to create a national organization dedicated to Equipment and Supplies and invested in the success of our stakeholders.

SYSTEMS
Paradigm operates on the EOS platform and has developed formalized business processes that drive consistency, discipline and accountability around Sales, Marketing and Education. Our proprietary technology, The REV Data Management System, provides unparalleled Sales Planning, Forecasting and Reporting to create a competitive advantage for our clients.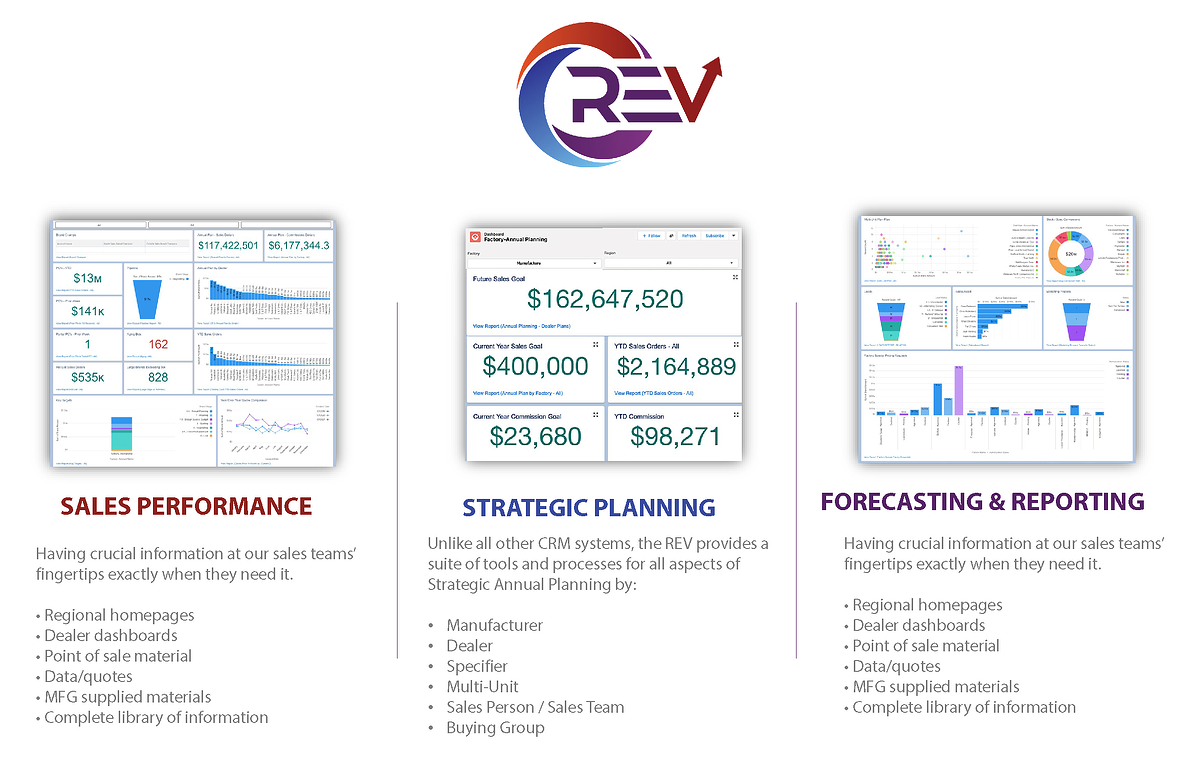 PERFORMANCE
Through a combined investment in our people, infrastructure, systems and processes Paradigm member companies outperform the market in top line sales, profit margins, forecasting efficiency and client experience.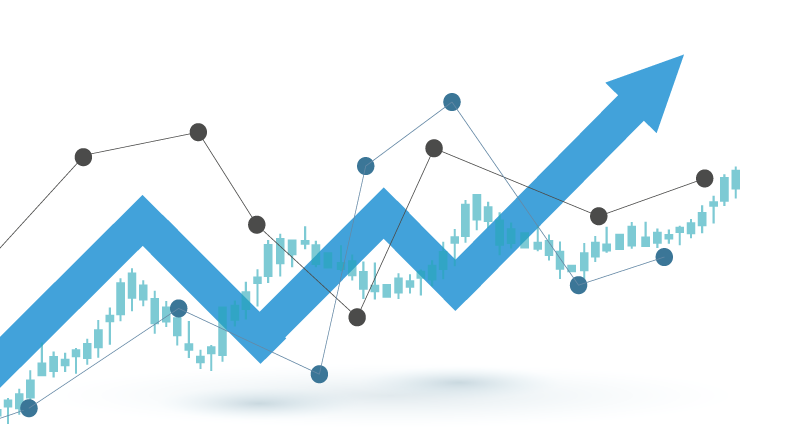 Collaborative Culture – Paradigm members operate with trust and integrity, implement best practices and openly communicate with one another and those we serve.
Commitment to Innovation – We are always moving forward and are committed to being the most progressive sales and marketing organization in the industry.
Best in Class – We have a Relentless Desire to Be the Best. "Best-in-class" describes everything we do: our people, our facilities, systems, processes and performance for our clients.
Lasting Impact – We believe in the inherent value of working for the good of others. We treat all people with dignity and we desire to leave a legacy that goes beyond our employees and extends to our clients.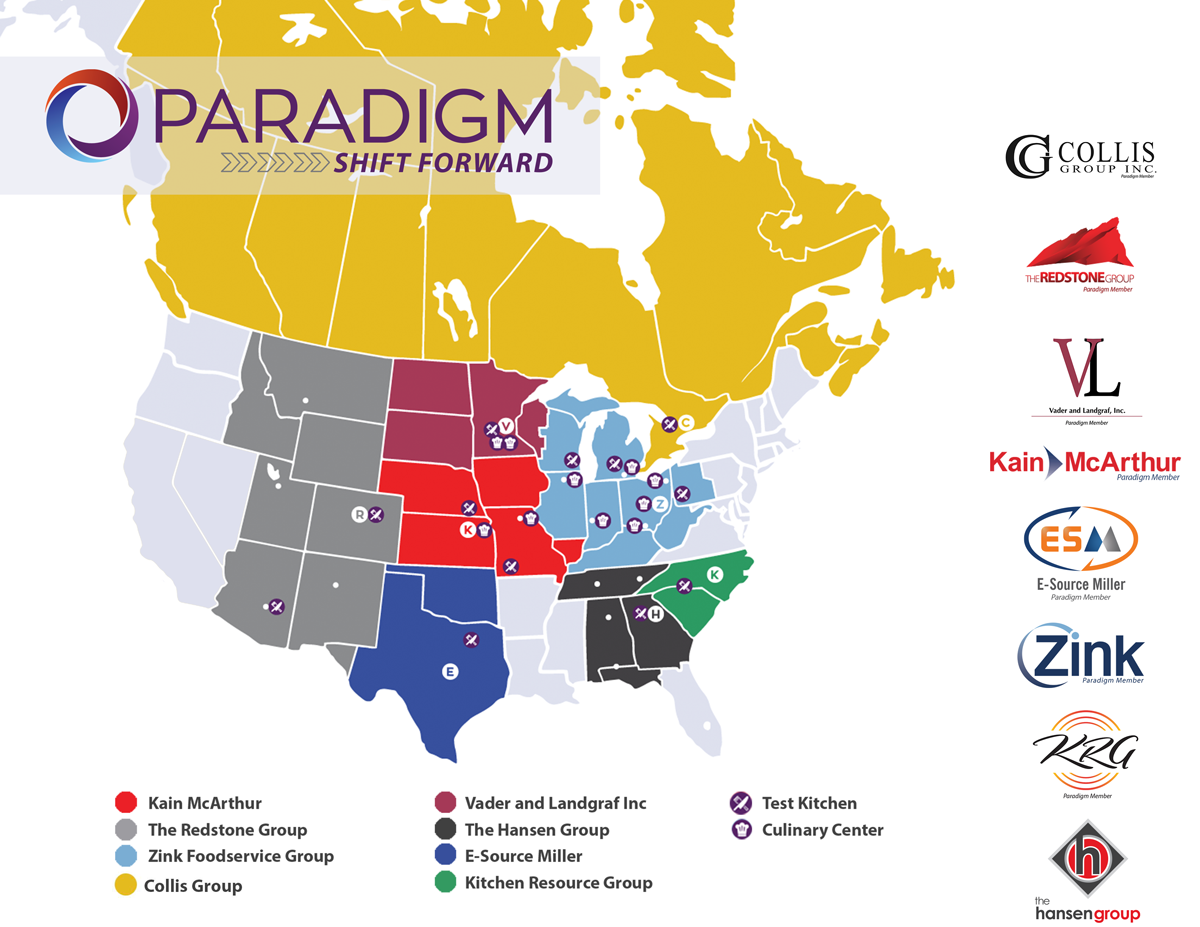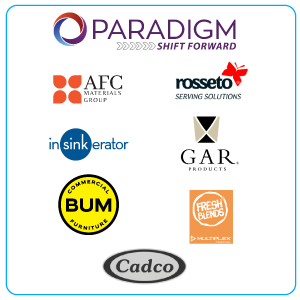 New Representation for Paradigm Companies
Zink: AFC Materials, Insinkerator, Rosseto, GAR
KRG: Rosseto, Cadco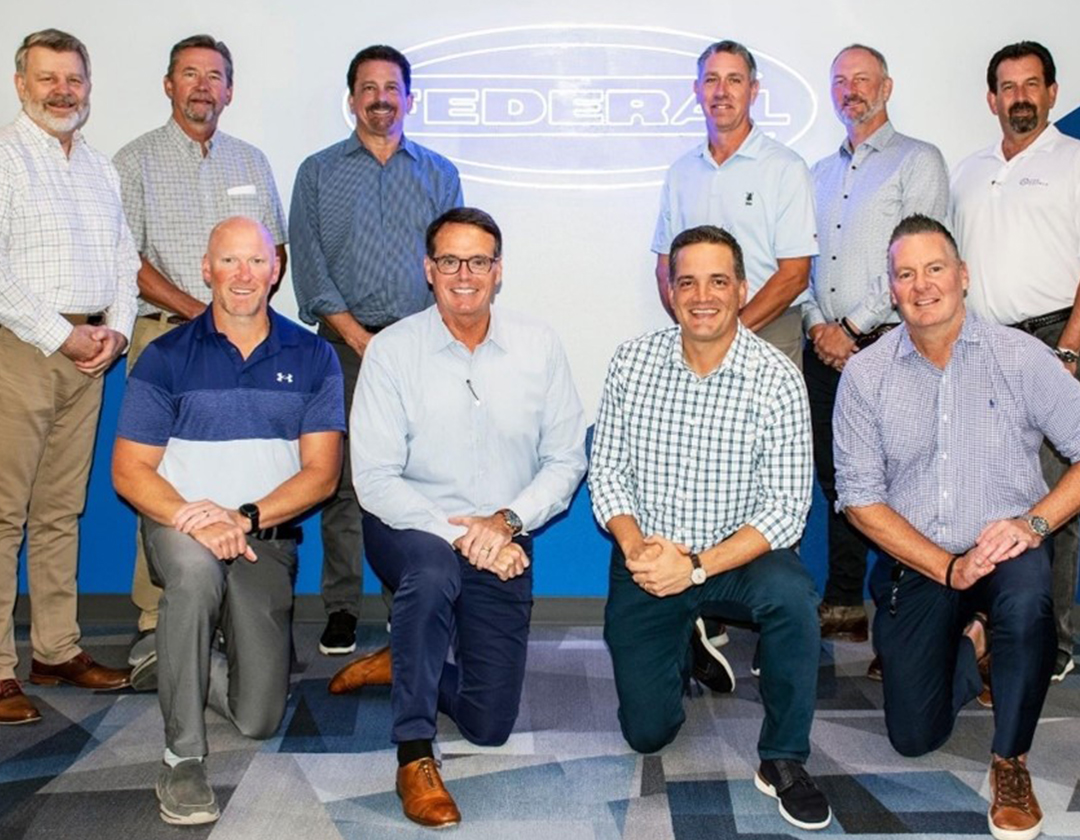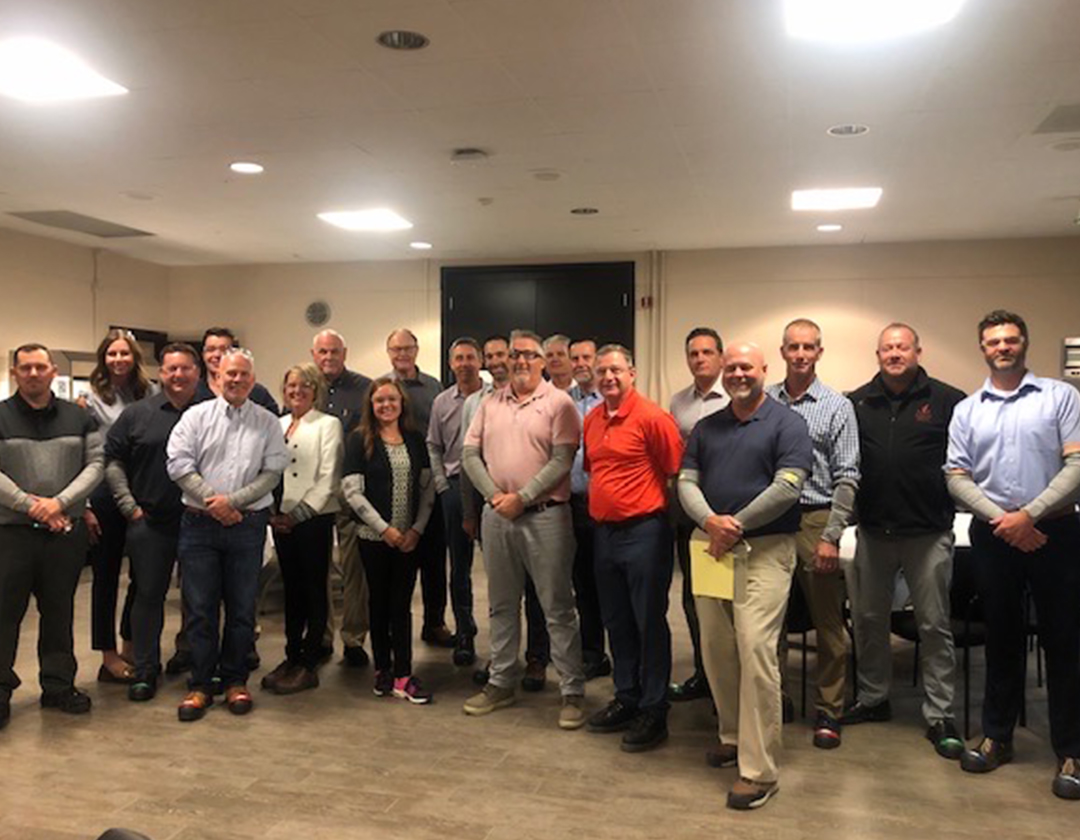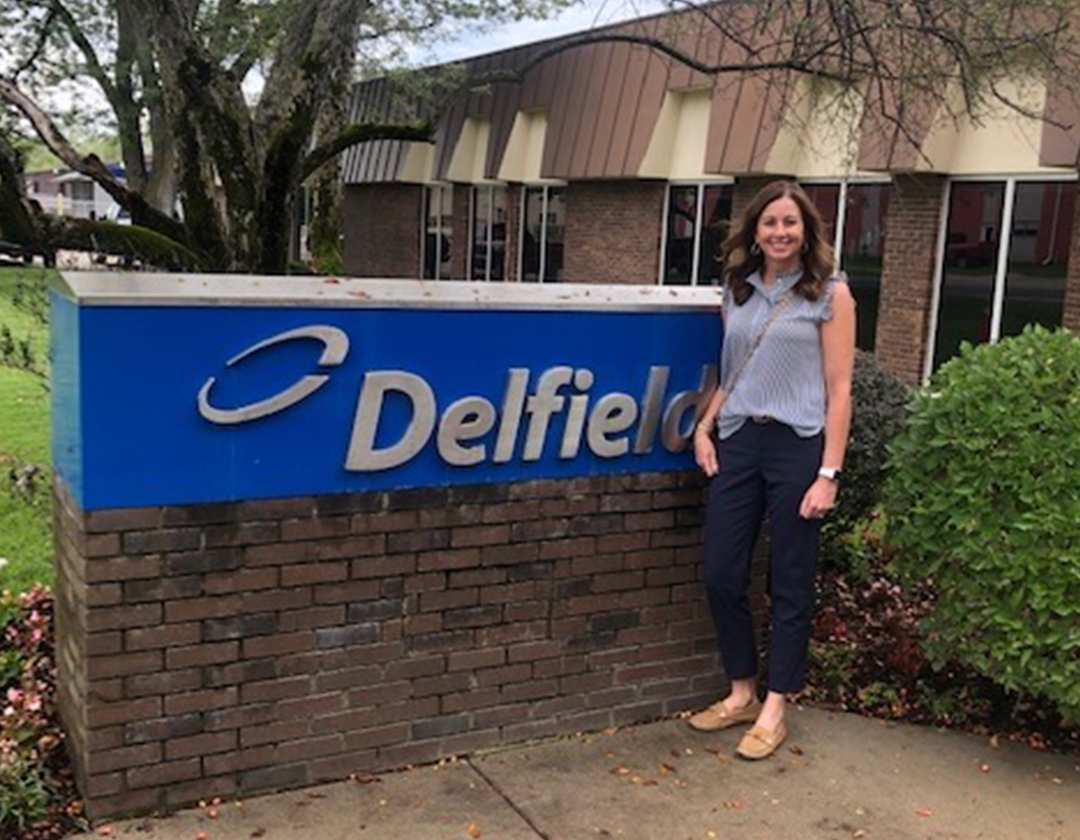 Paradigm Rep Councils & Factory Trainings
Paradigm was proud to attend the following Rep Councils and factory trainings this quarter. We value collaborating with reps across the country.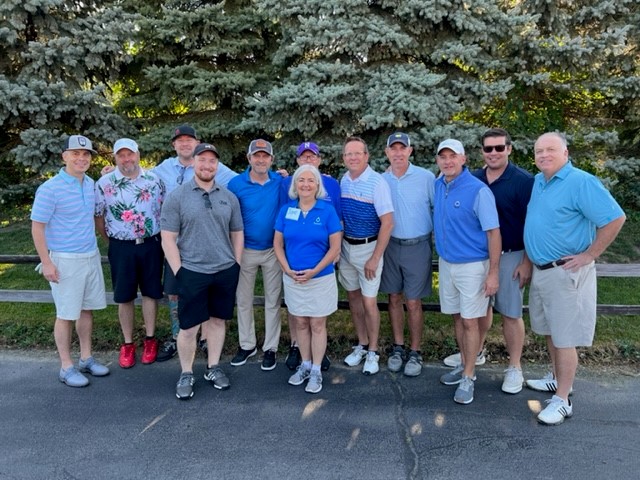 Paradigm Leadership at Antunes Splash Golf Tournament
Antunes raised more than $119,000 for its corporate partner Splash through their Annual Splash Golf Outing, exceeding any previous year!
With the money raised, Splash is able to spread the message of the need for access to clean water and hygiene for many children and adults living in urban poverty.
Splash helps bring clean water, sanitation, and hygiene education to schools in Ethiopia and India.
Team Paradigm – BC Roberts-KRG, Ryan Morris-KRG, Kelly McArthur-Kain McArthur, and Dave Schwefler – The Hansen Group won the event!
To learn more about Splash visit their website at www.splash.org.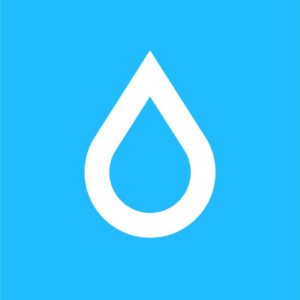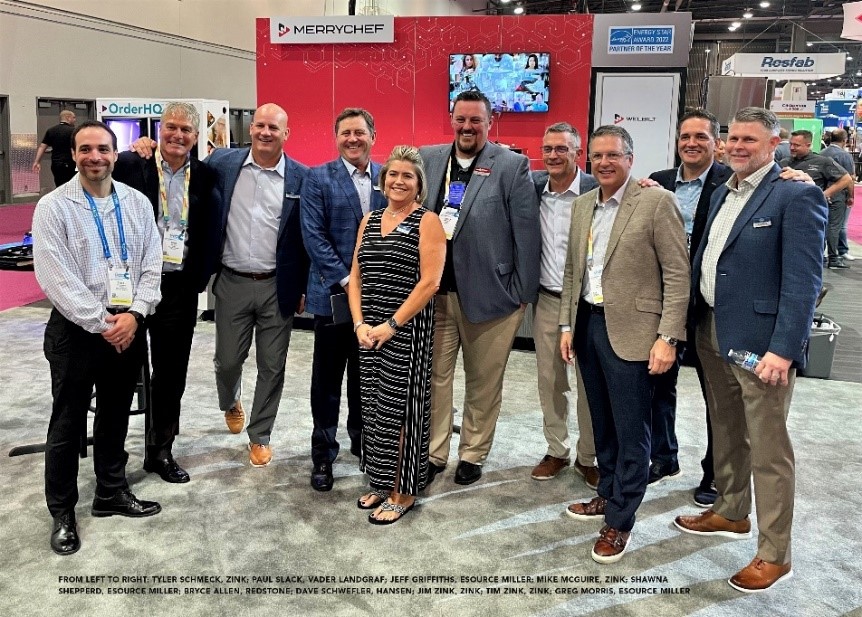 Paradigm Member Companies at the NACS Show. Collaboration and teamwork like none other in the industry. Shift Forward with us!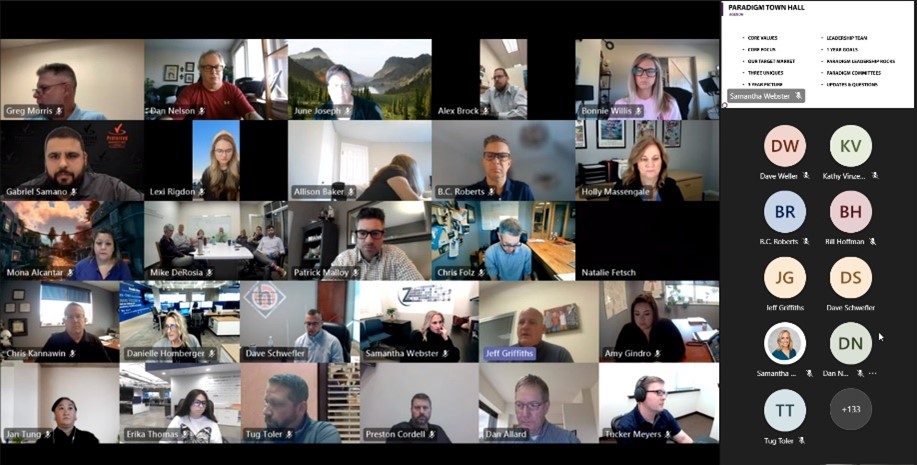 Paradigm Companies Town Hall Meeting
As part of EOS, after our Paradigm leadership and committee quarterly L10's we hosted a Town Hall for all Paradigm Members to attend. This meeting ensures leadership comes together to refocus and evaluate priorities and performance and make new priorities for the upcoming 90 days. Leadership presented this along with each committee chair to share our 90 day goals and updates.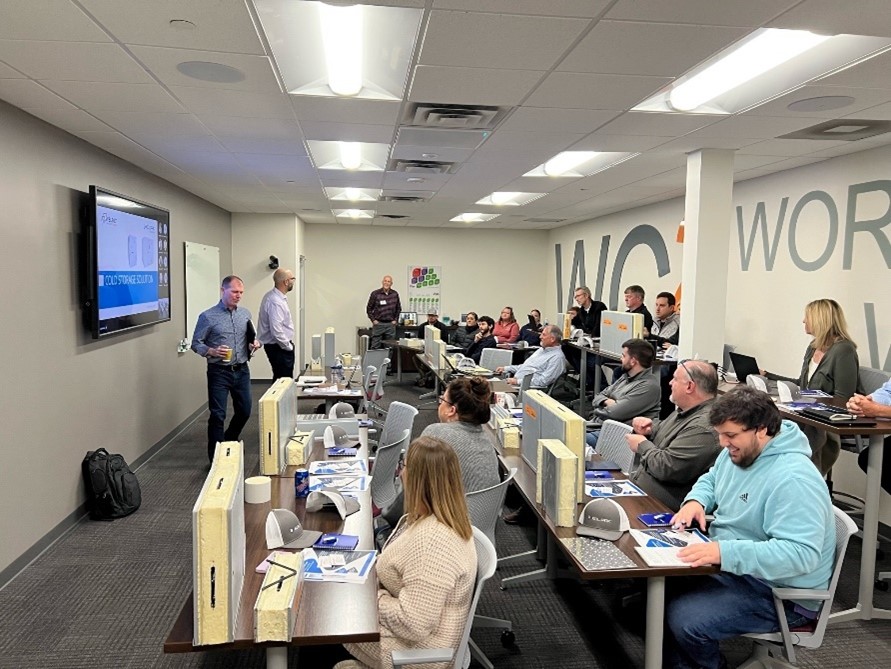 Multi Unit – Premier Brand Training and Zink at a Glance Presentations
This quarter we met in person with RSCS (supplies YUM Brands), Papa Johns and Texas Roadhouse to present how Zink can create solutions that align with their growth in foodservice.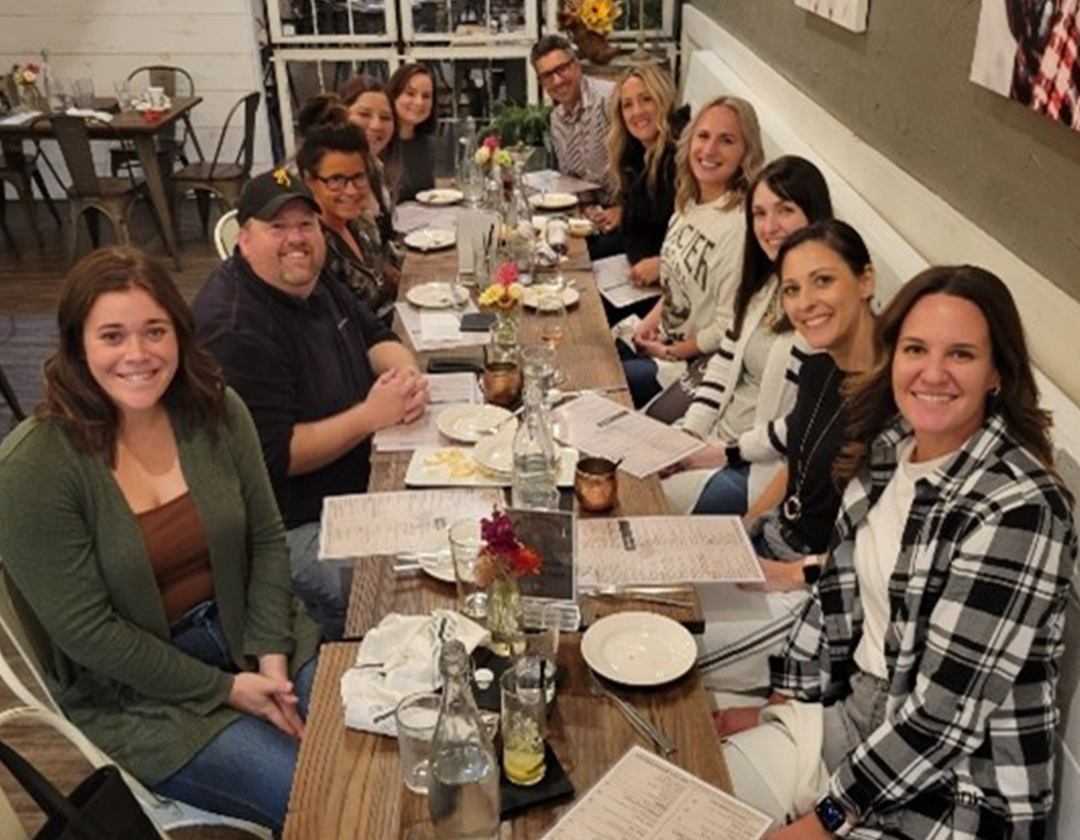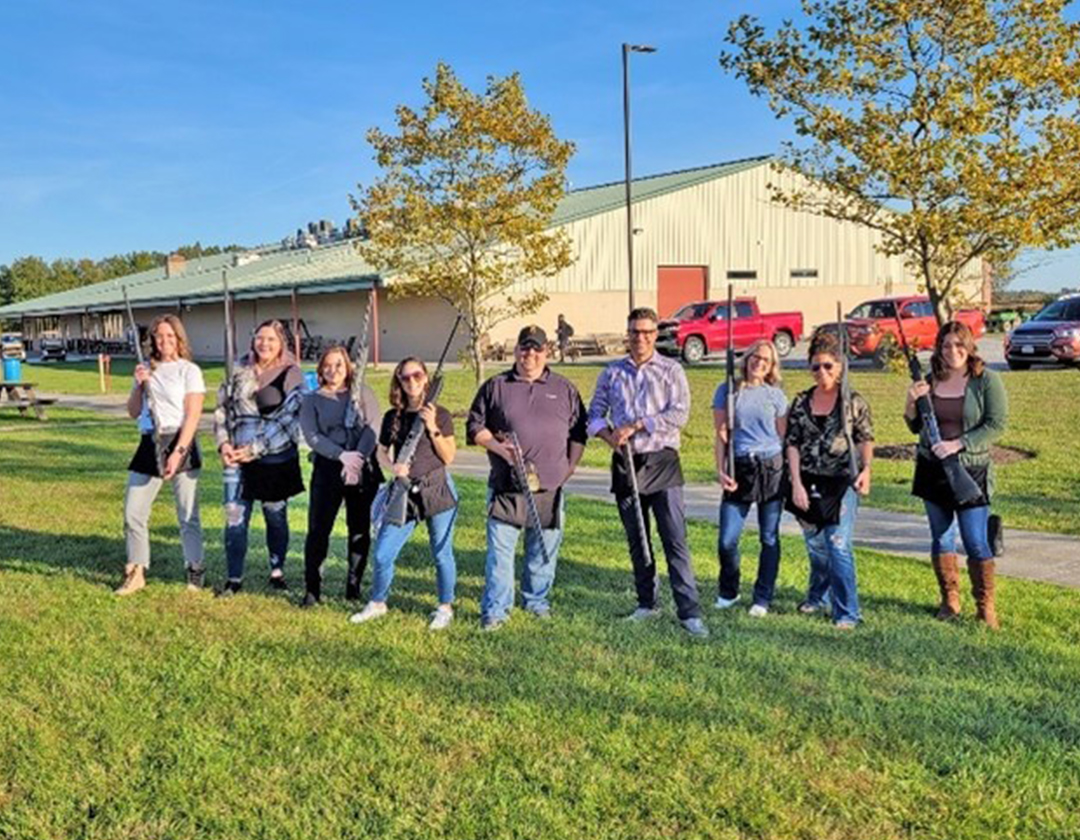 Client Services Team Building Event & Quarterly L10
Our client services account managers had a team-building event this week and decided to mix it up with some trap shooting! It was great to bring the whole team together in person for a day of goal setting and regrouping.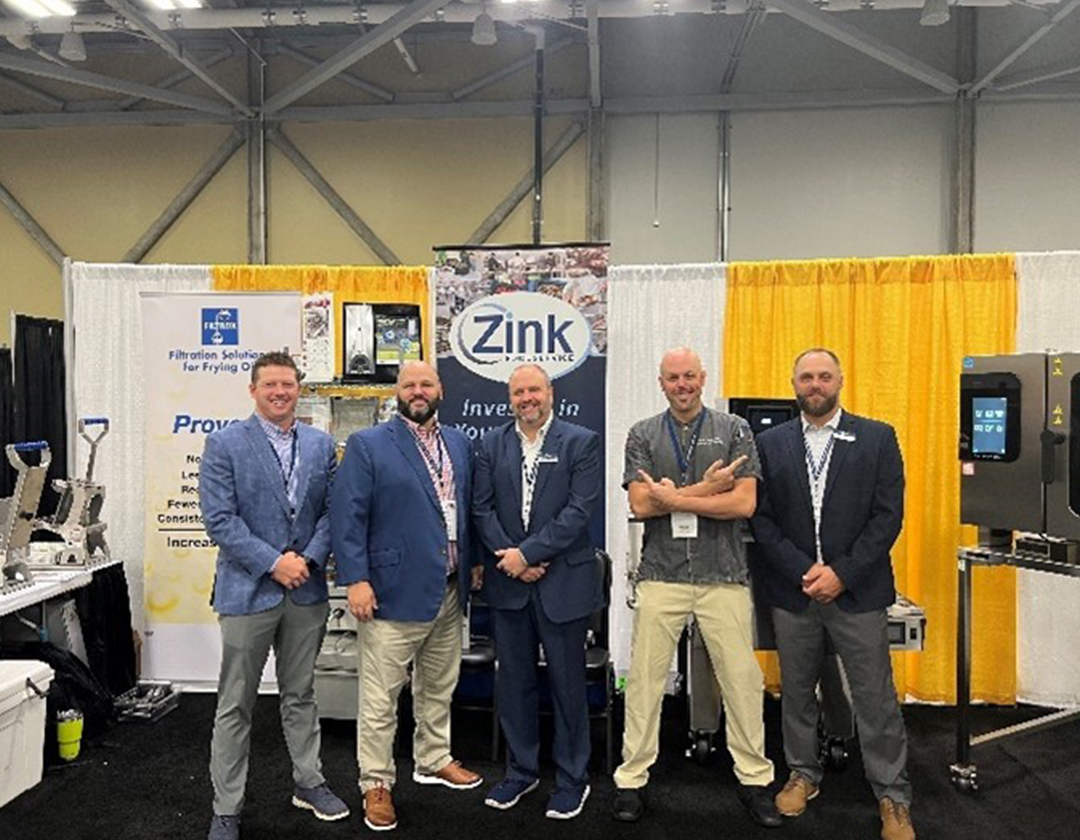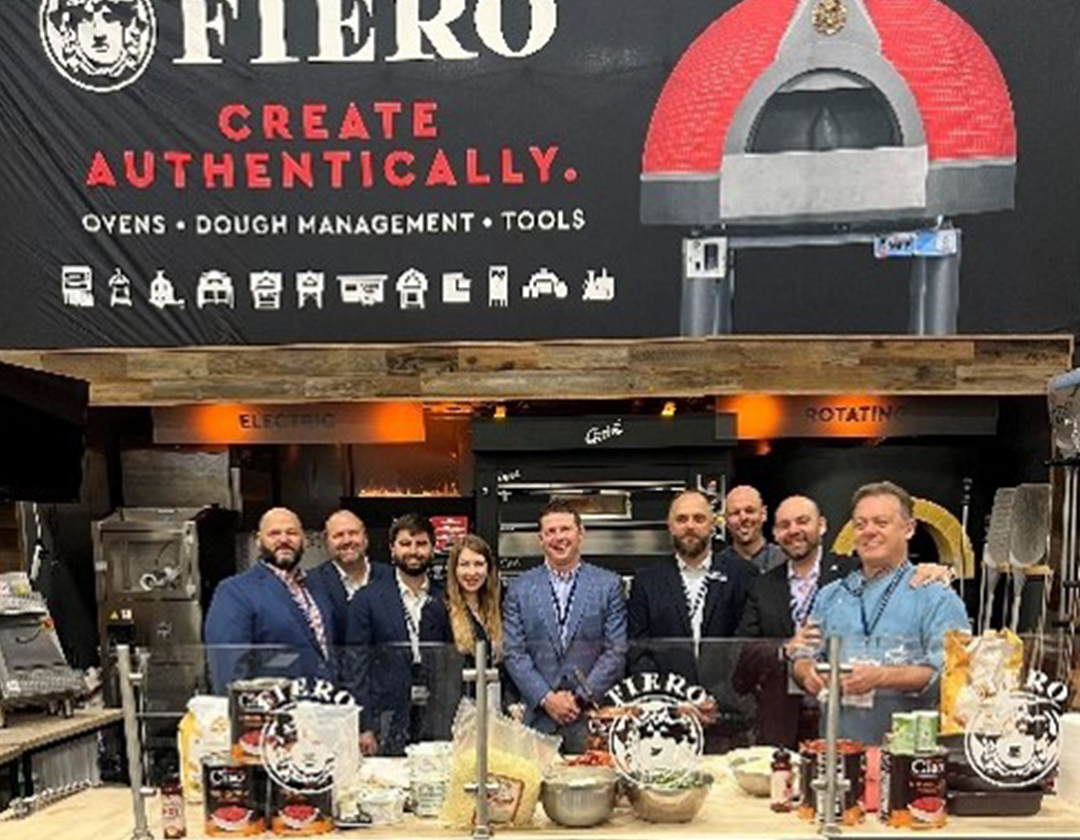 Mid America Restaurant Expo
Zink exhibited at the Columbus, OH Mid America Restaurant expo along with Fiero Group ovens.
Featured Premier Manufacturers:  Convotherm, Lincoln, Jackson, Merrychef, Filtrox, Fiero, T&S Brass, Edlund, and Hamilton Beach.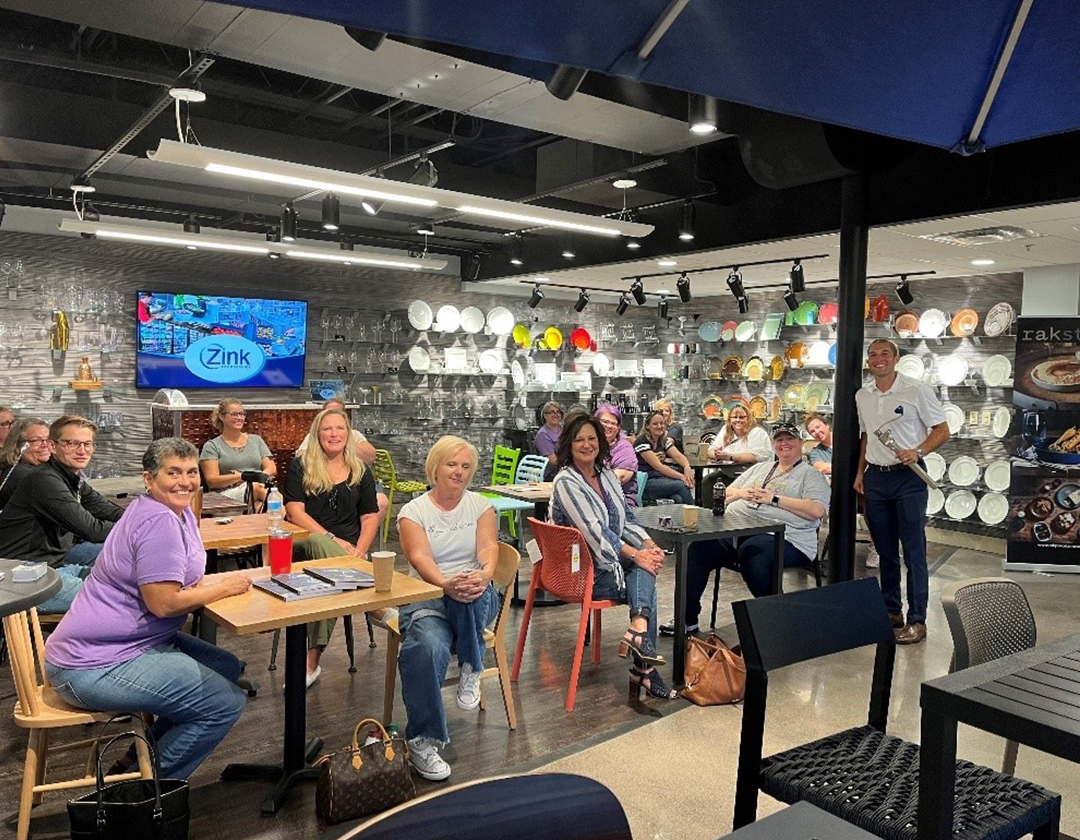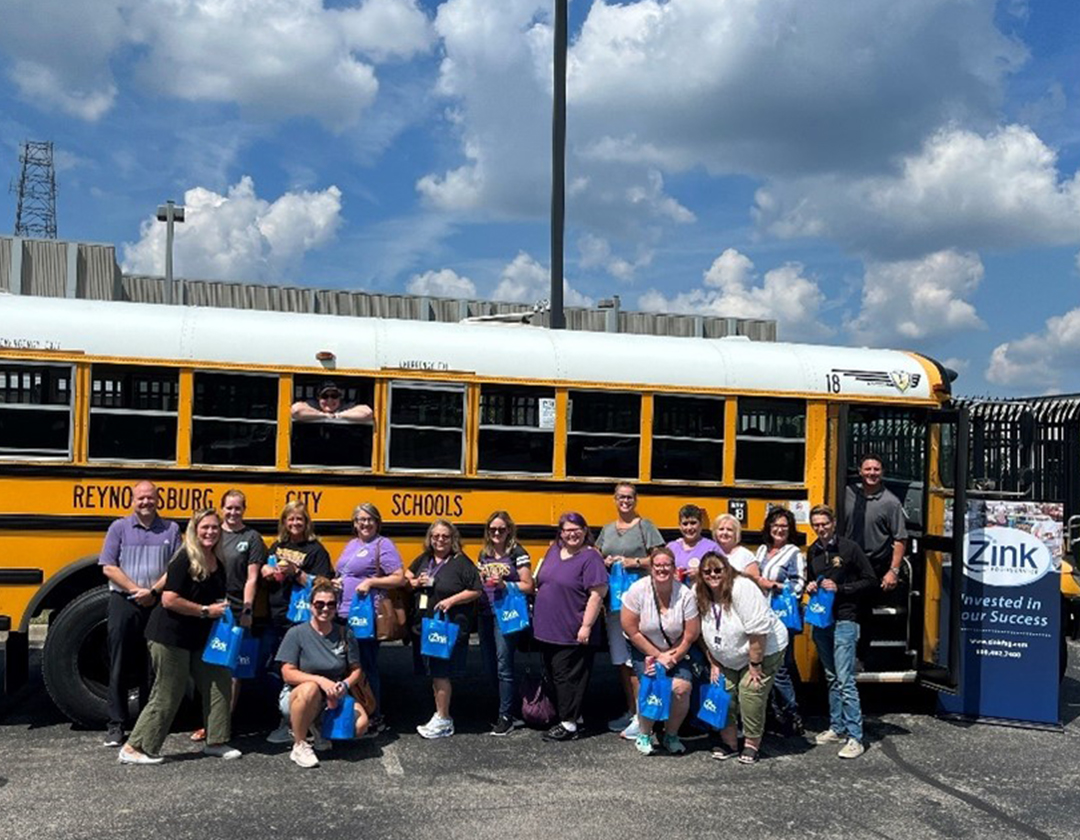 Zink Reynoldsburg School Training
Zink loves school foodservice training! Today at our Columbus office Drew Patterson,CEC,CCA and Frank Rivelle II had Reynoldsburg City Schools in for training along with Edlund. We had to get a photo when the whole crew showed up in style in a school bus!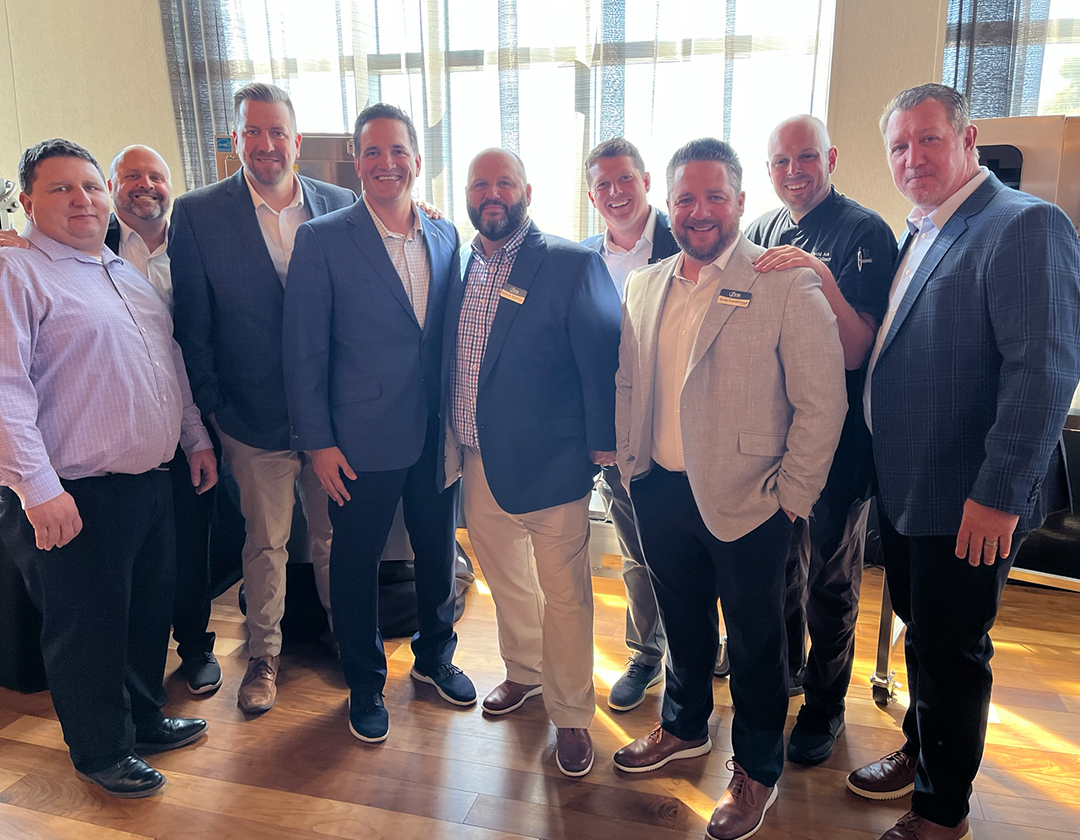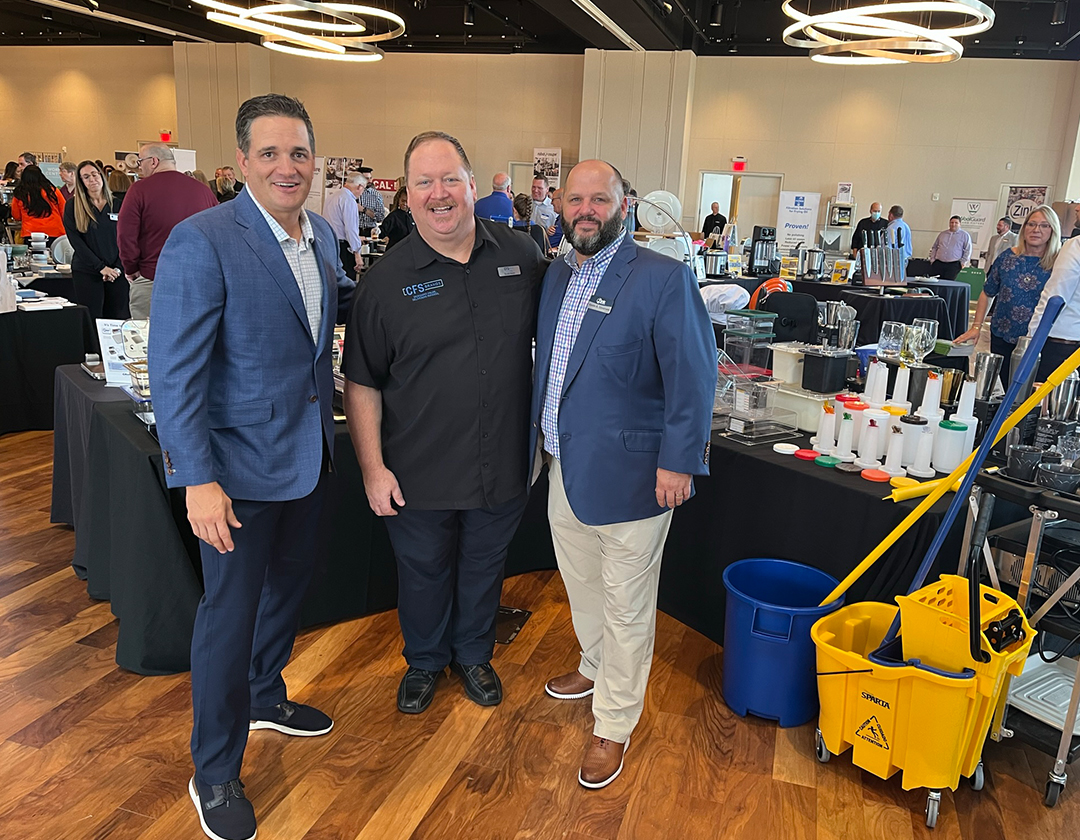 The Zink team was proud to exhibit at the Wasserstrom Columbus Showcase this week along with our premier manufacturer partners, culinary, distribution and filtration team.
Featured Premier Manufacturers: CFS Brands, ACP, Convotherm, BUM Commercial, Edlund, Hamilton Beach, Garland, Jackson,  Filtrox, Lincoln, Mercer Culinary, SHEV, G&A Commercial Seating, Merrychef, Nemco, Old Dominion, RAK, Rosseto, Tuxton, Woolguard, Z-Ventilation Solutions.
E-SOURCE MILLER NEWS & EVENTS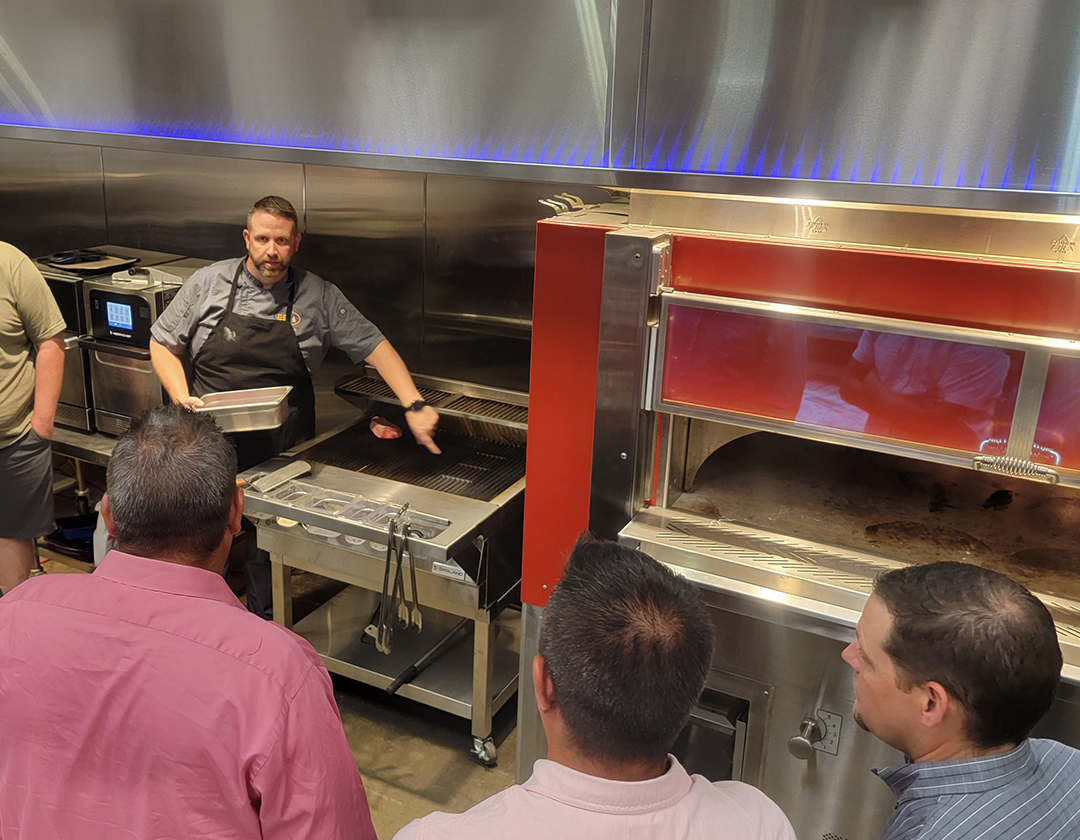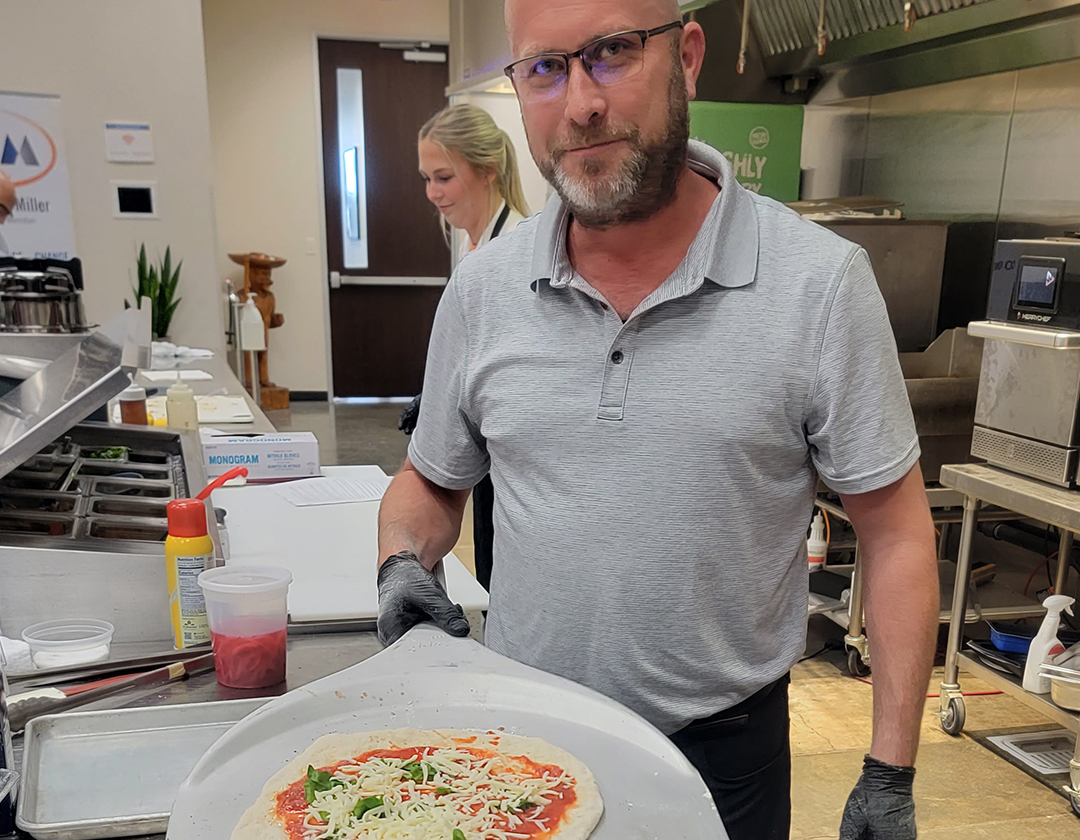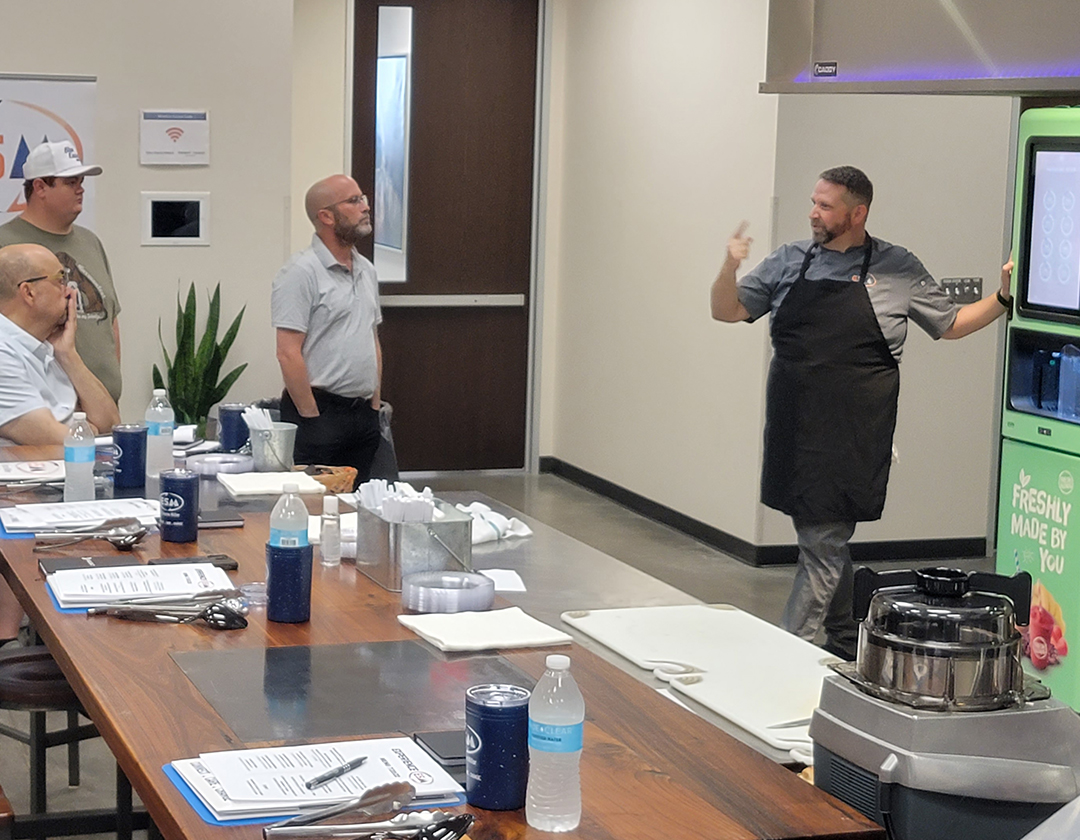 Experience E-Source Miller
This 2 hour "Experience ESM" event gives a hands-on, interactive training session on the most innovative products in the foodservice industry! Our guests even get to enjoy the food they've seen and participated in making!
Chef Tug Toler brings years of industry knowledge from a variety of perspectives, presented in a relaxed, light-hearted tone that only Tug can bring!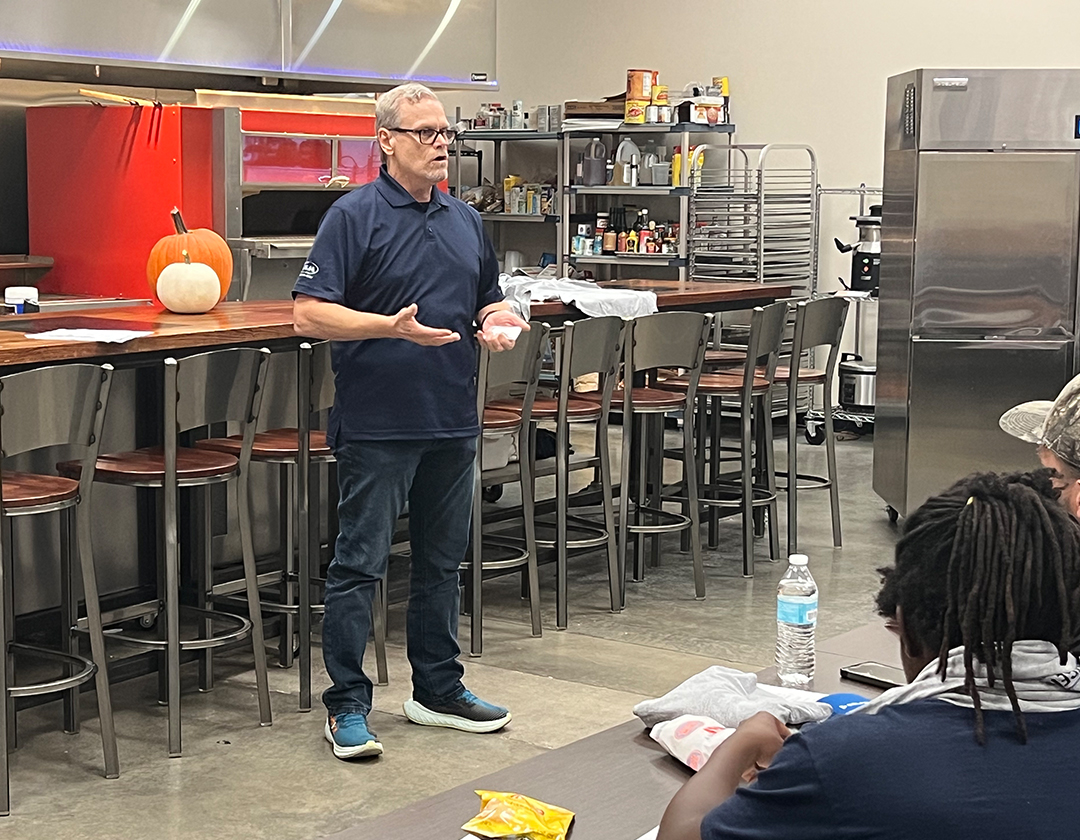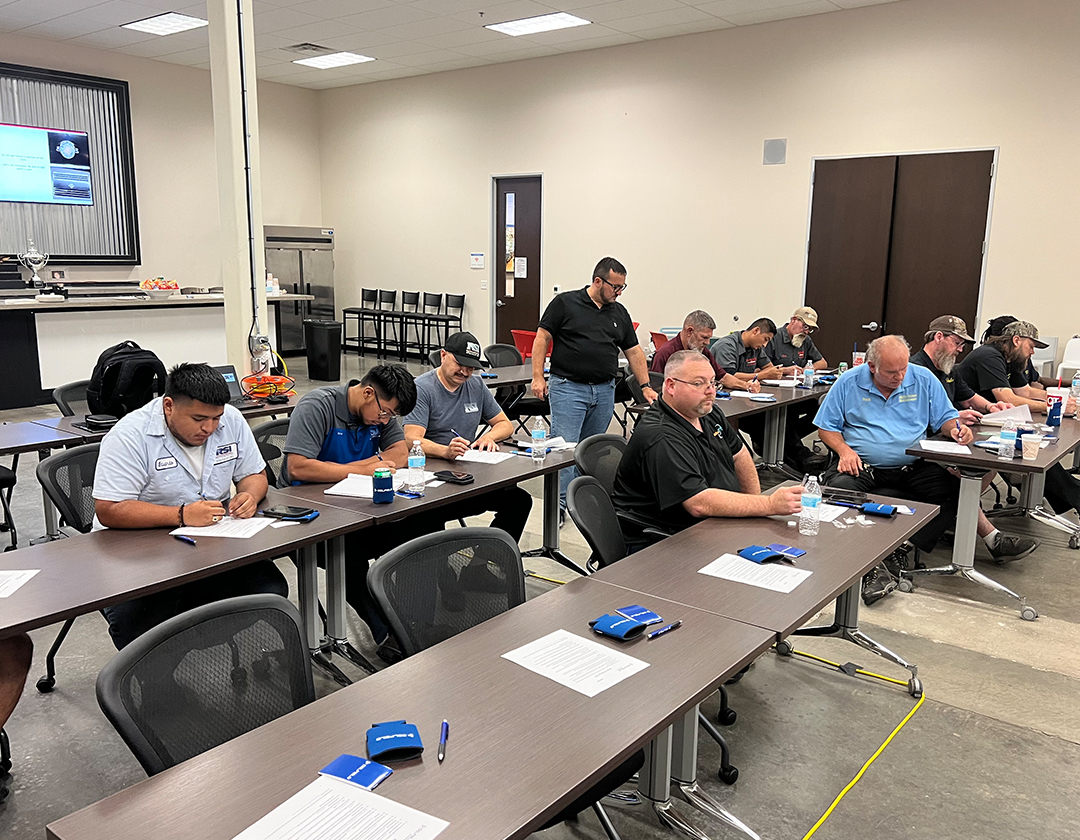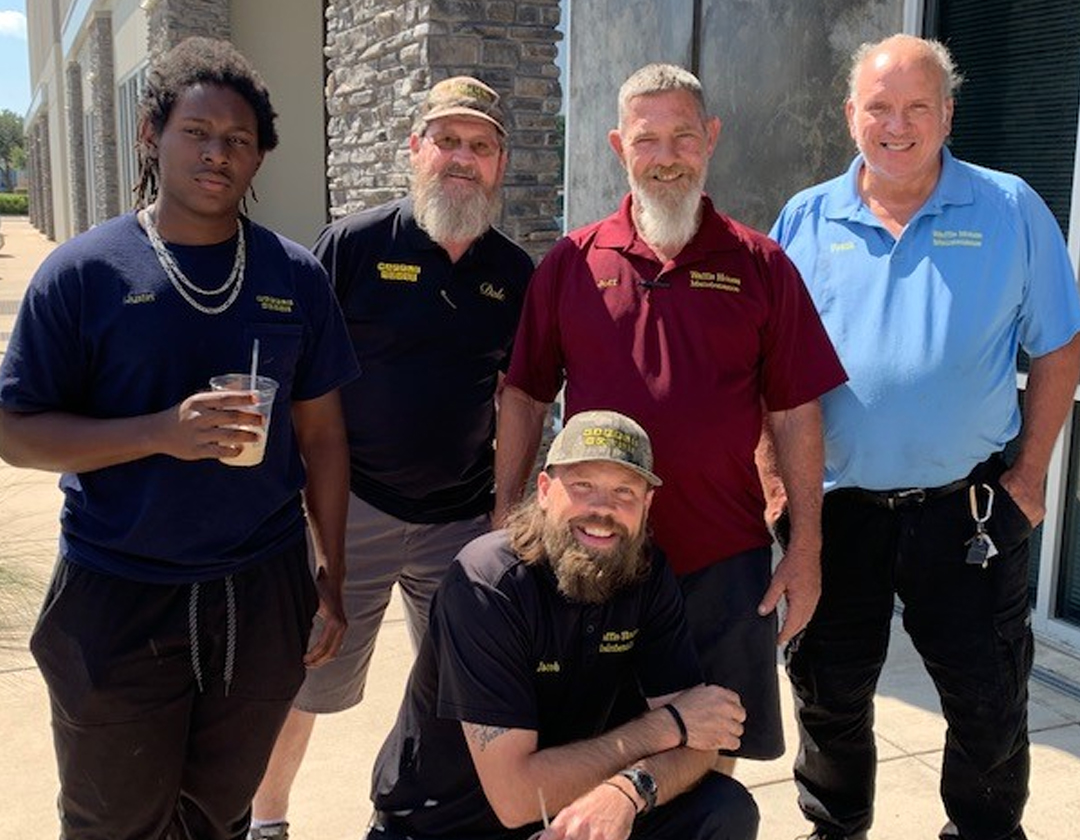 ESM Hosts Delfield Technical Training
We partnered with Delfield and our Technical Experience Manager Keith Johnson for a half-day technical training class.  We had 14 service technicians from several service companys and end users.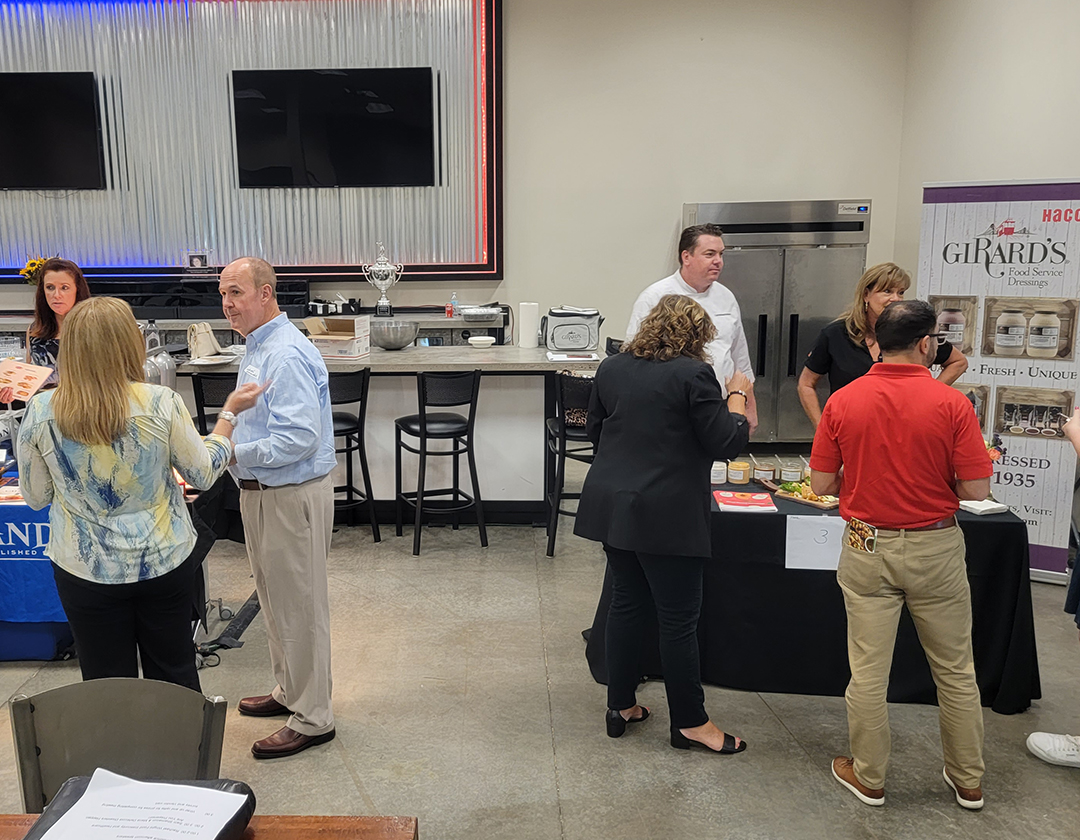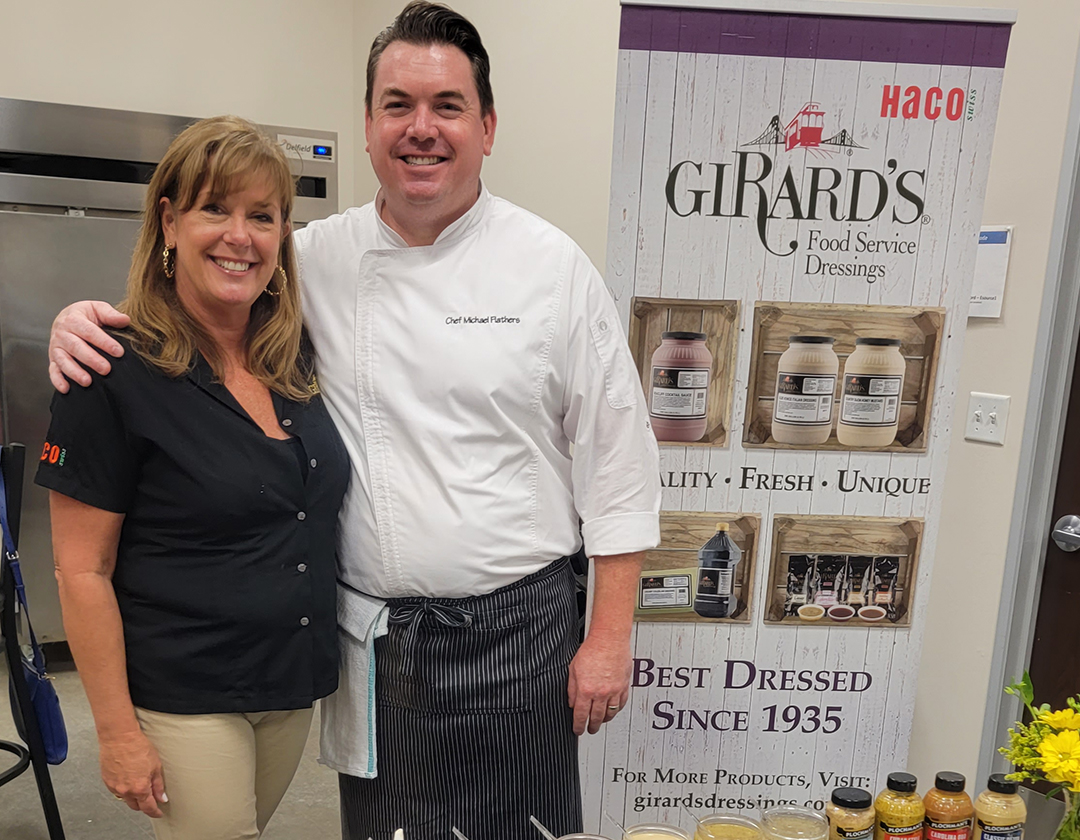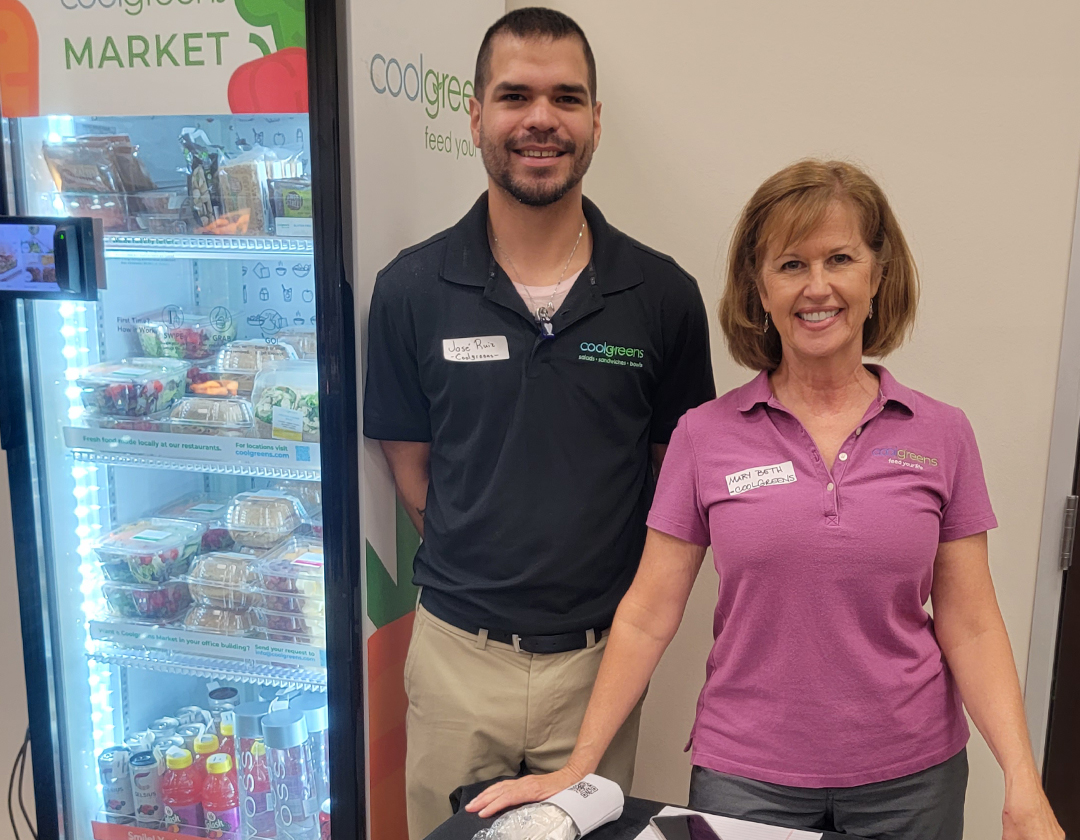 ESM Hosts Texas Chapter Meeting of AHF
Our Culinary Center is always open for anyone in our industry, and we were excited to open our doors for the Texas Chapter of AHF.  The speakers were fantastic and the vendors were able to show their innovative products.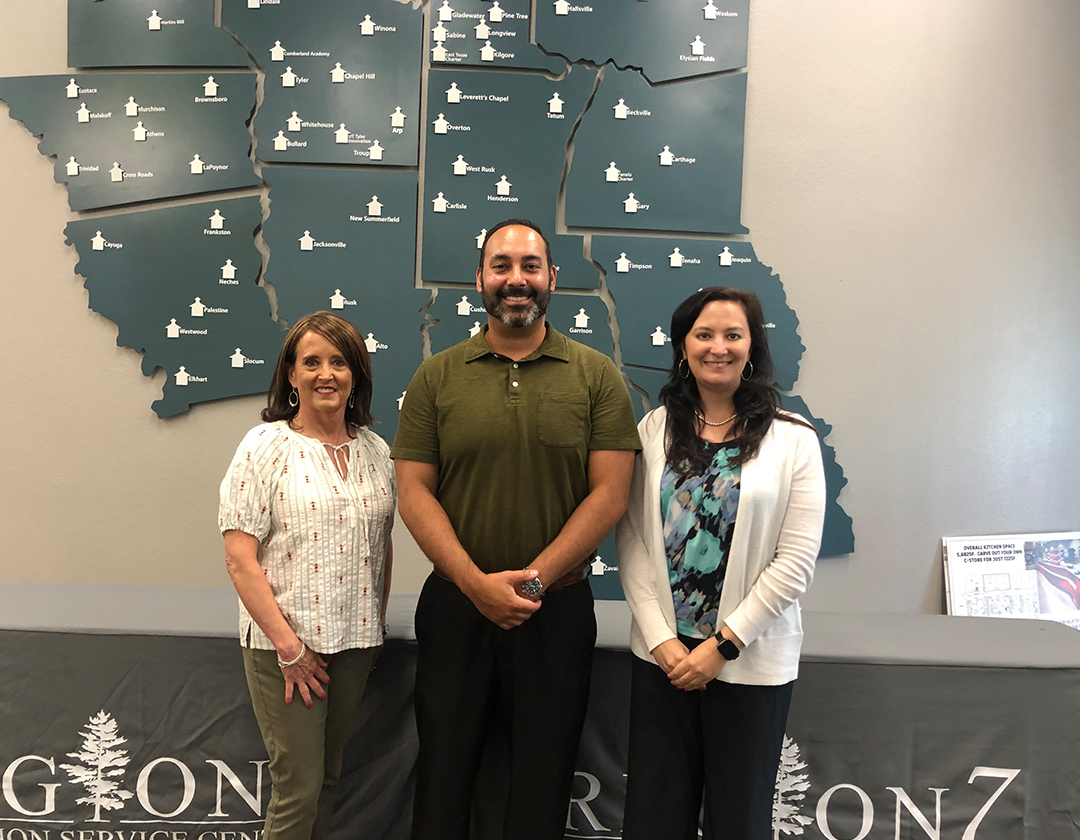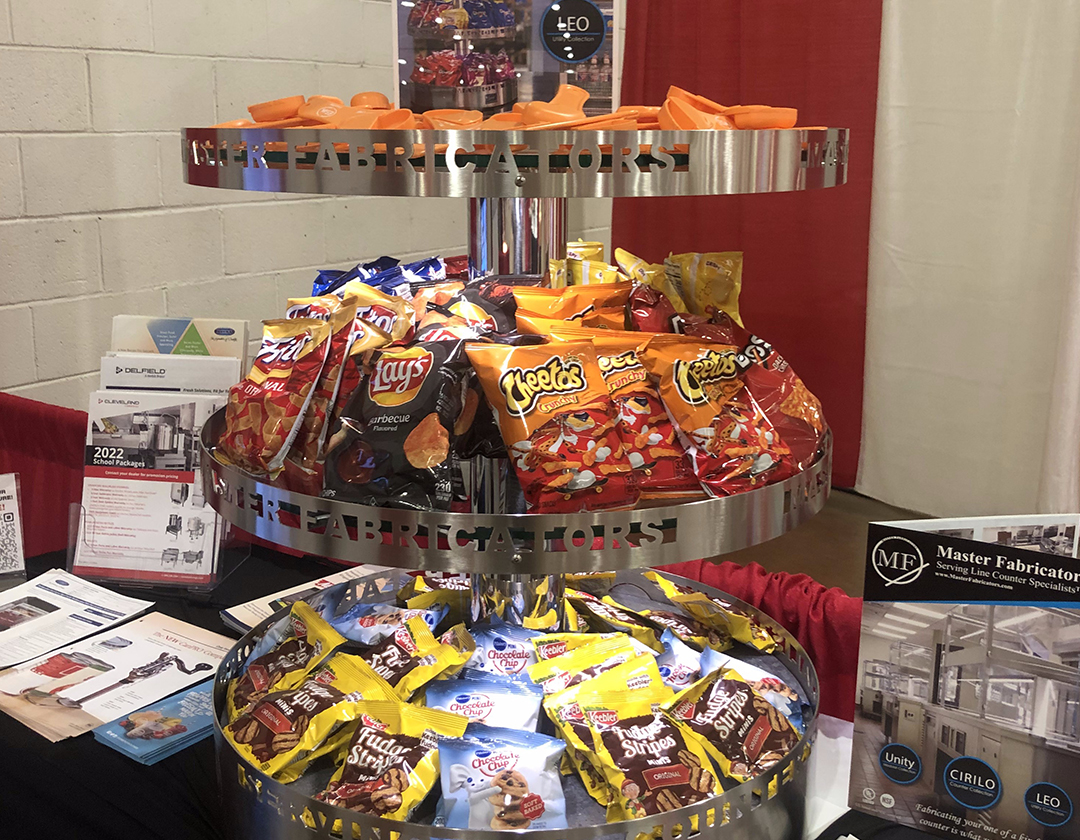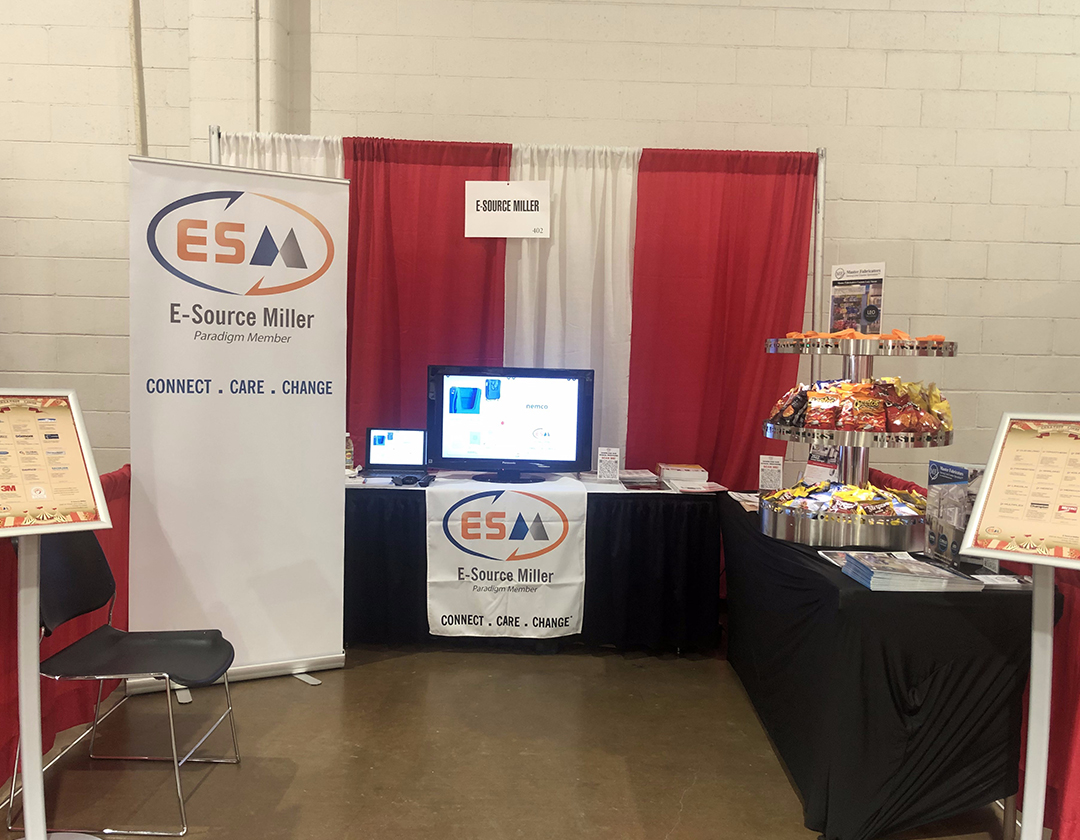 ESM Attends Regional School Nutrition Shows
ESM participated in the Region 10 Show and Region 7 Summer Workshop.  It's always great to connect with our friends in the Texas School Nutrition Association.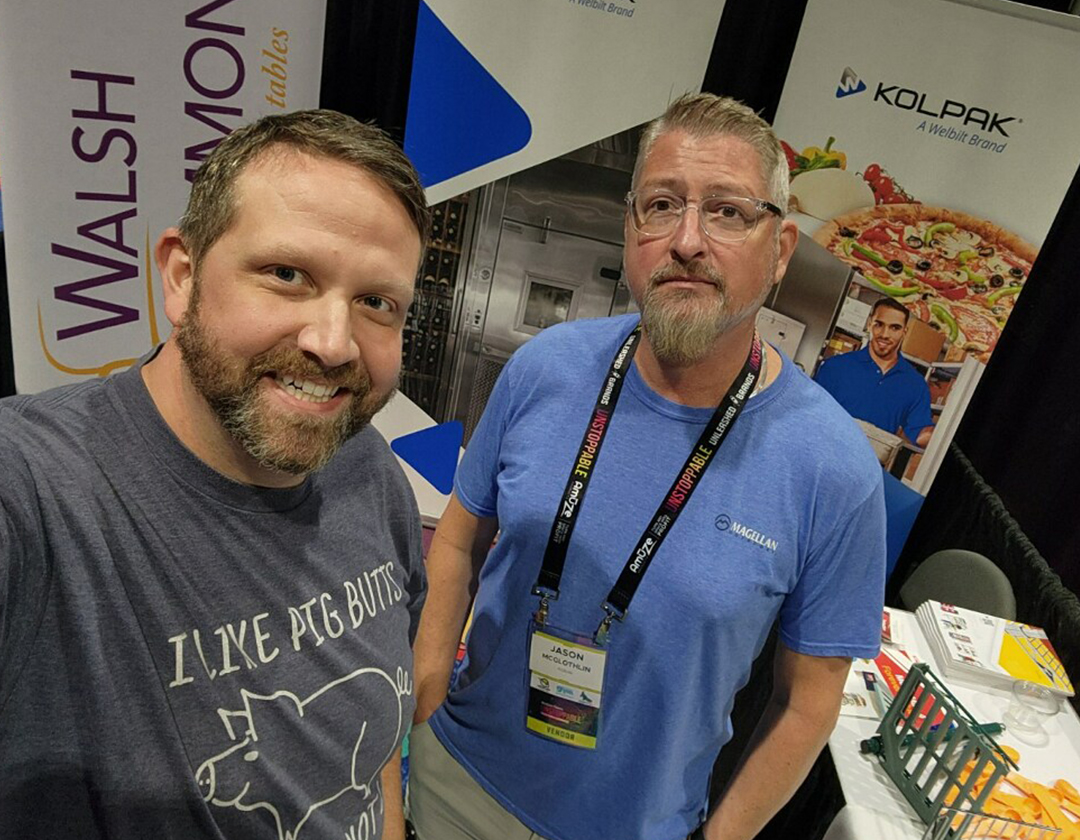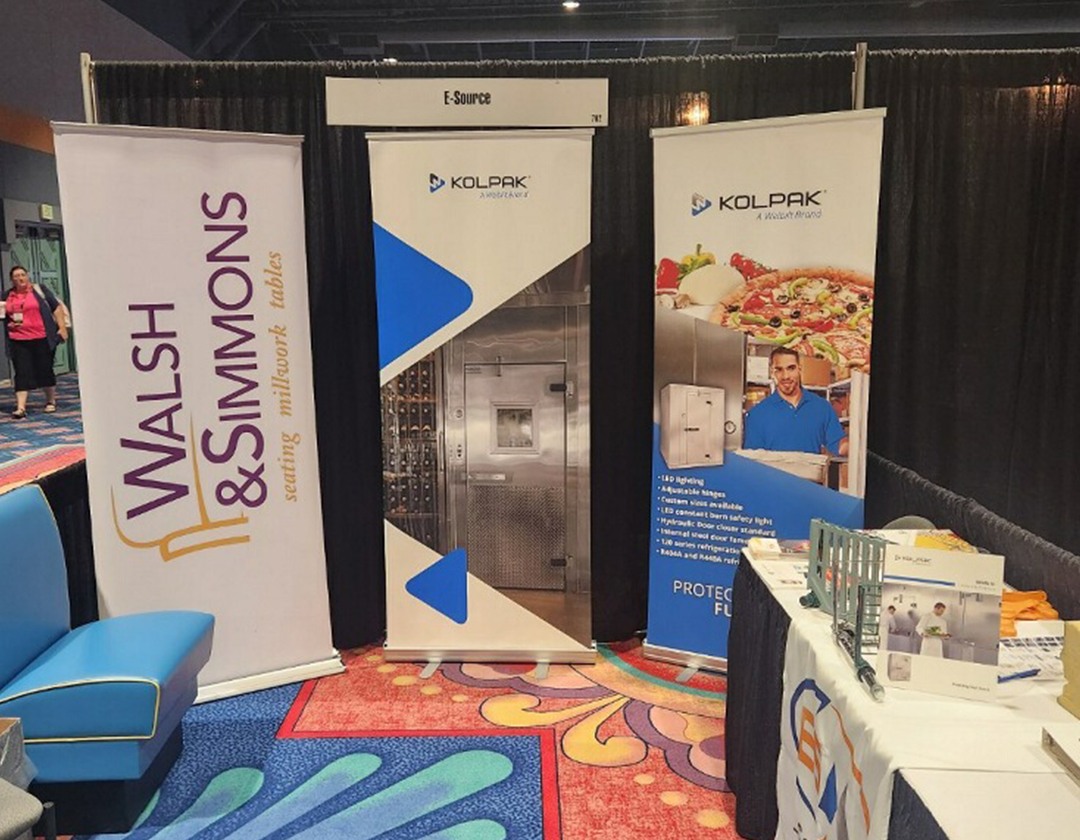 ESM Attends Unleashed Brands Franchise Conference
ESM attended the Unleashed Brands Franchise Conference in Orlando.  Very positive response to Kolpak, Metro and Walsh & Simmons.
VADER & LANDGRAF NEWS & EVENTS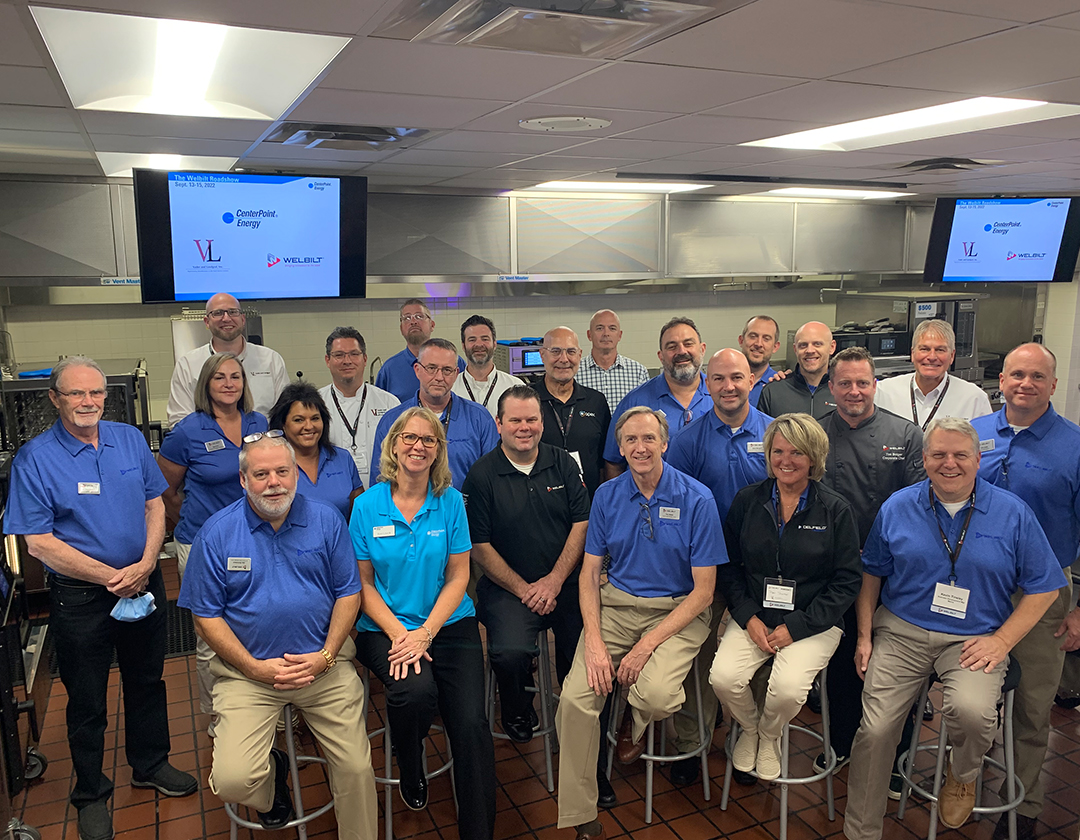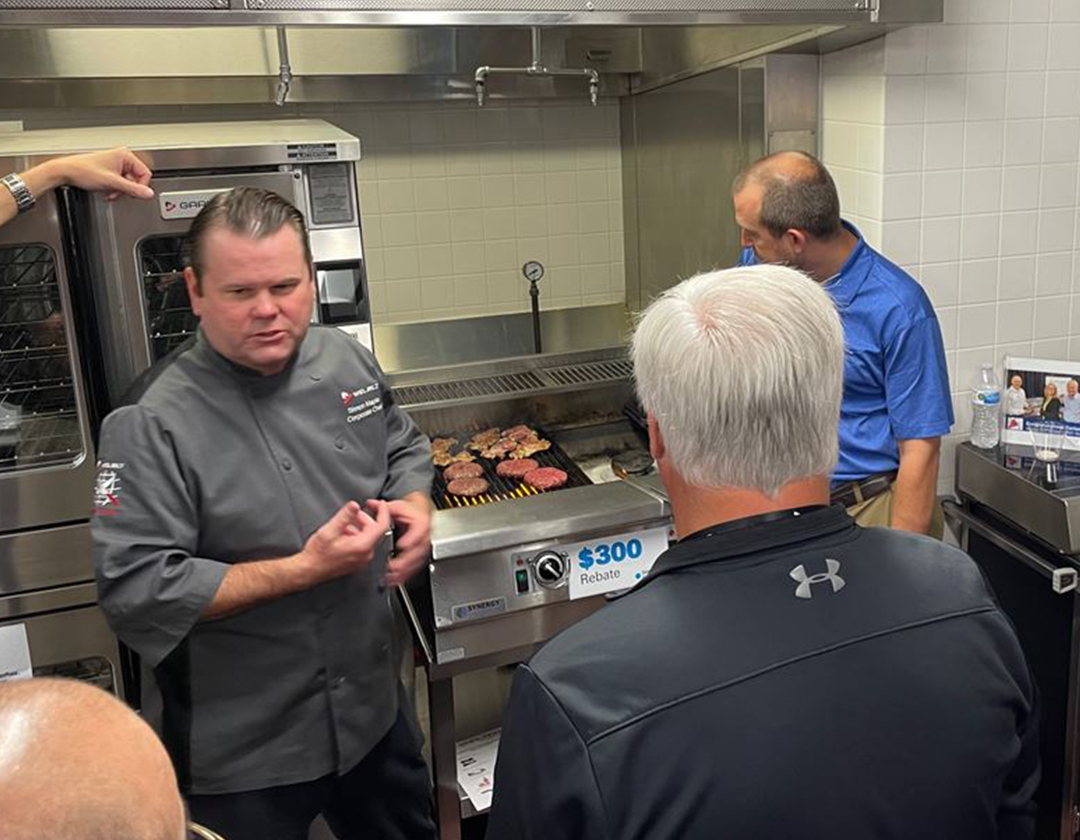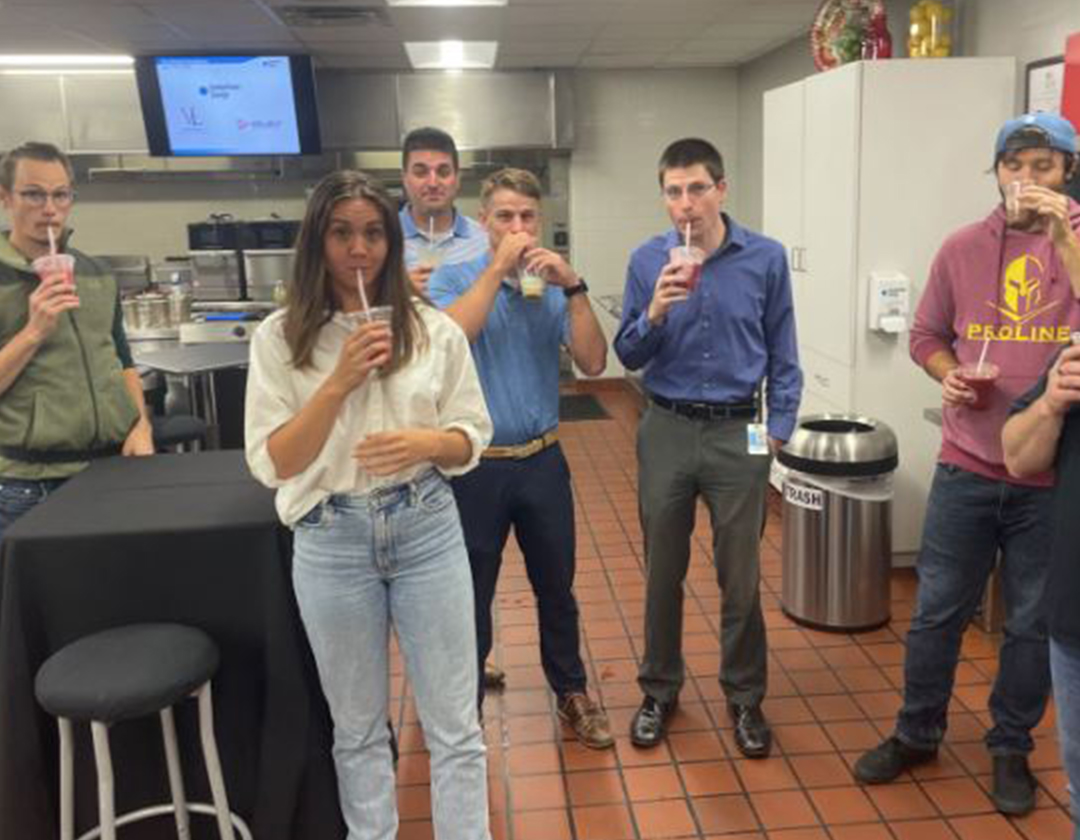 The Welbilt Roadshow comes to Vader & Landgraf
The Welbilt Roadshow was at Vader & Landgraf last quarter.  We were able to showcase many pieces of equipment to our dealers, distributors, consultants, designers, multi-units, and end-users.  Welbilt's latest technology is the talk of the foodservice industry and we were excited to share it with you.

Vader and Landgraf hosts their 12th Annual W.I.N.O. (Women in the Industry Night Out) Event
This year everyone put on their best 80's attire and participated in a "I love the 80's to Death" murder mystery! Special thanks to all our factory, consultant and dealer partners who supported the event this year!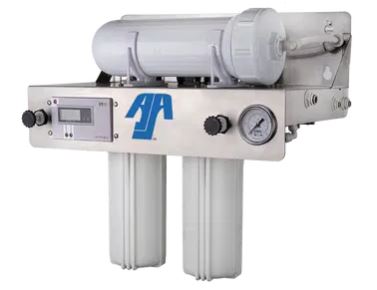 Vader and Landgraf's Key Win with Kwik Trip Boosts Antunes Water Filtration Systems Sales
Vader and Landgraf worked closely with Kwik Trip to identify their needs, resulting in rollout of high quality water filtration solutions from Antunes in many KT locations.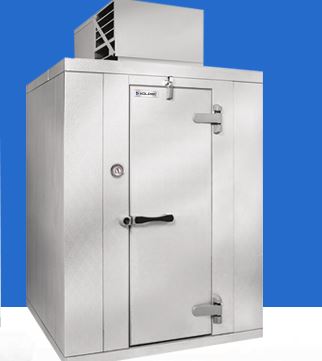 Vader and Landgraf Secures Big Win with Tropical Smoothie
The Vader and Landgraf team works closely with the Tropical Smoothie team to design the right walk-in configurations for each store's needs. Kolpak walk-in systems sales will increase over the next two years as a result of some great teamwork!
COLLIS GROUP NEWS & EVENTS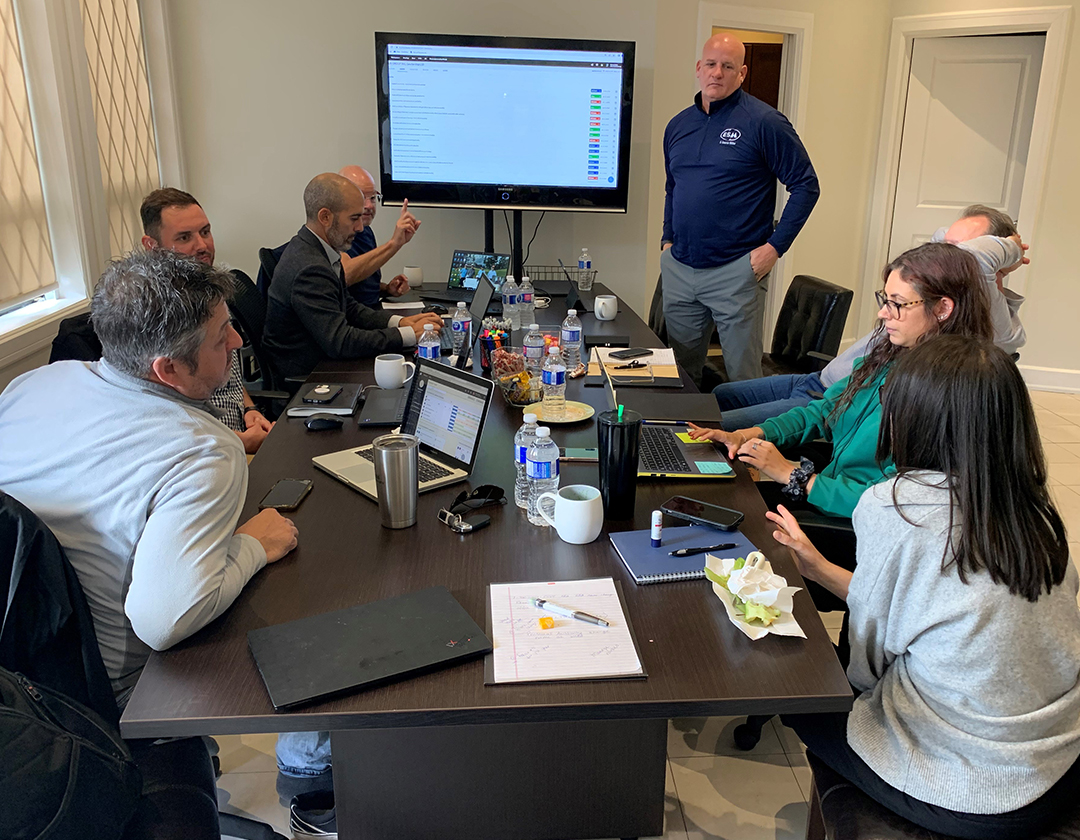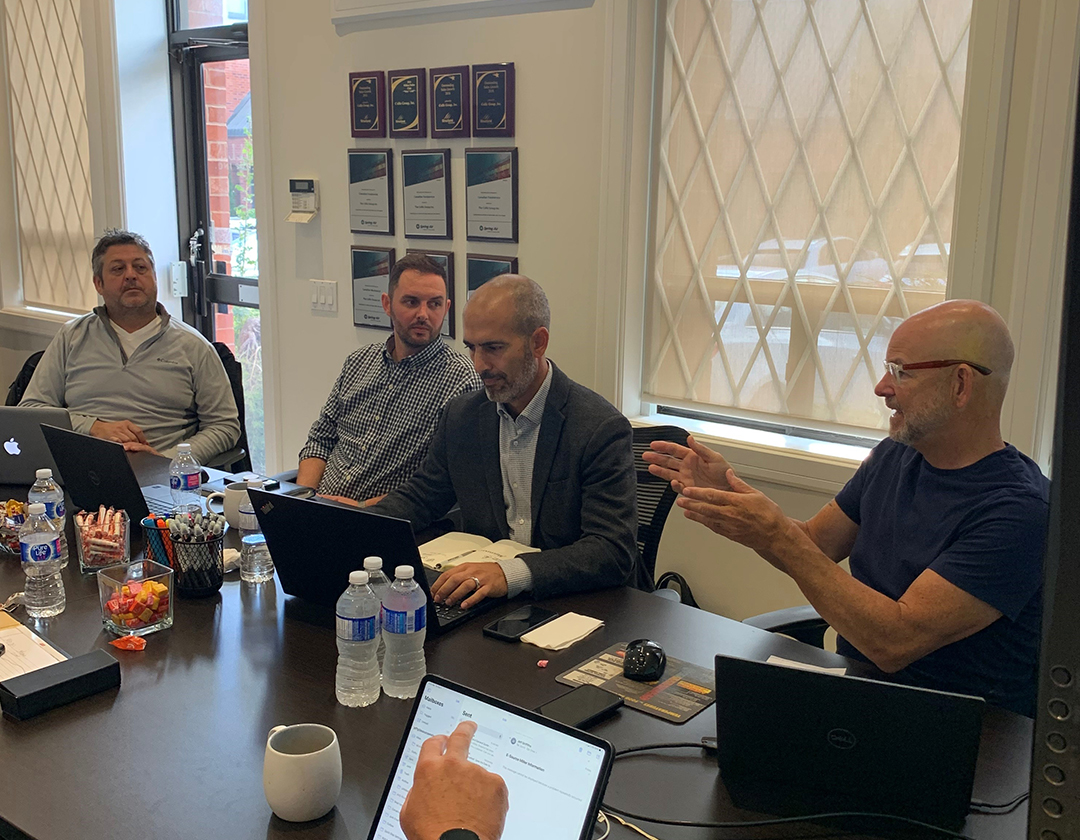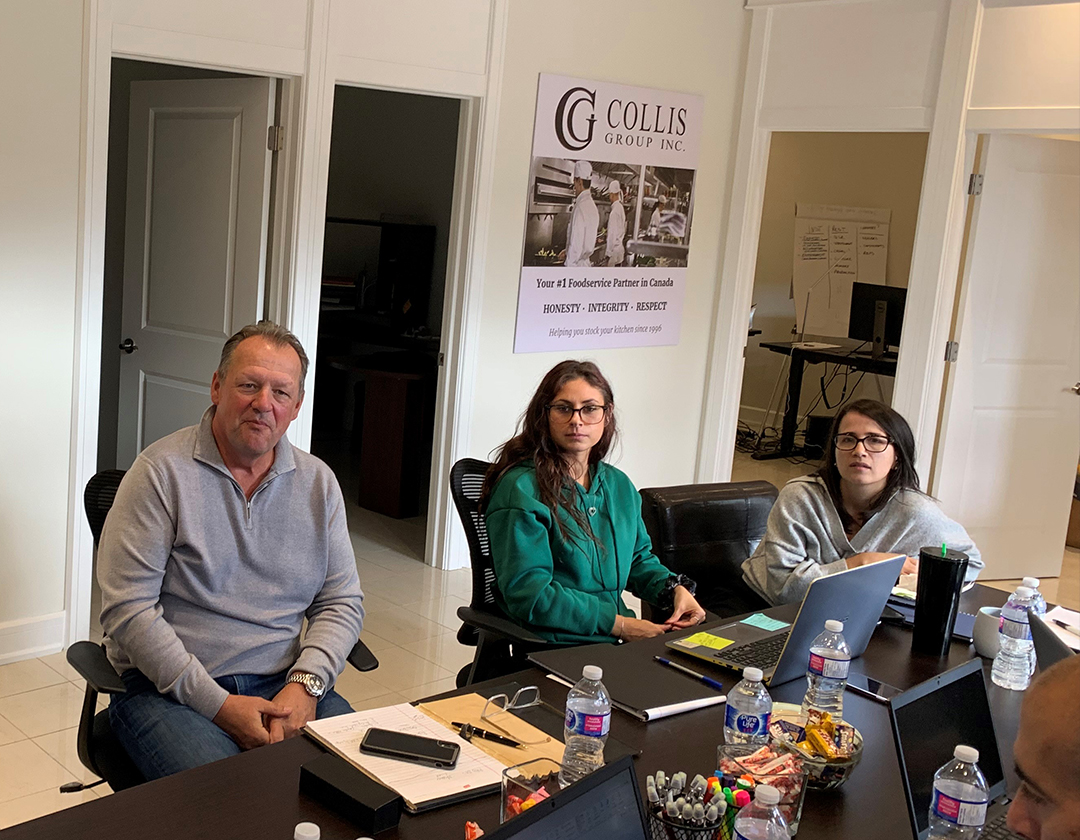 Collis Group holds 4th Qtr EOS meeting
We use the EOS operating system and spent time planning our rocks and goals for the 4th quarter.  Jeff Griffths from E-Source Miller spent time with us giving his insight and direction.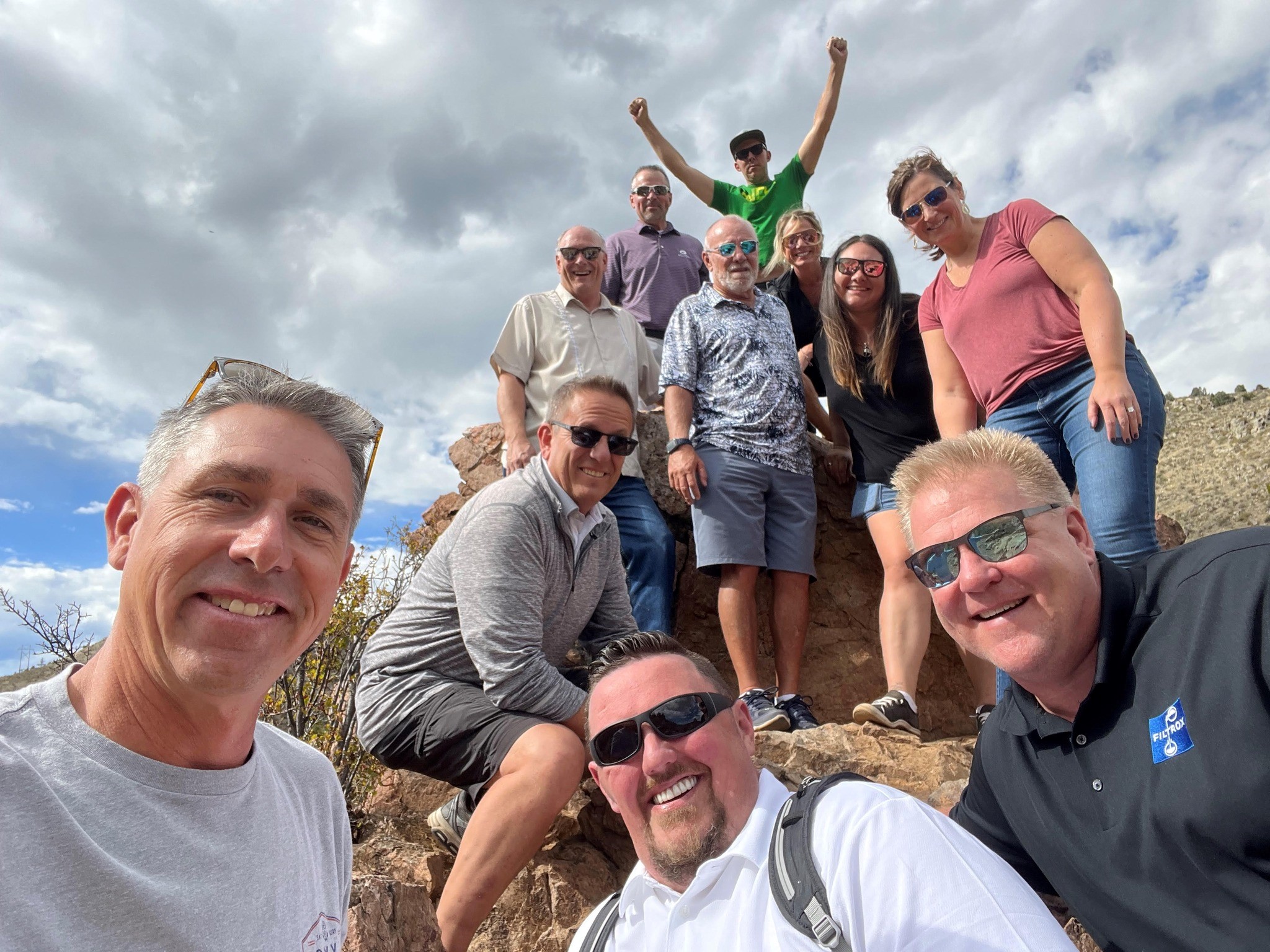 Redstone holds quarterly sales meeting
Our sales team had a great in-person quarterly, they set professional rocks and then climbed real rocks as a team!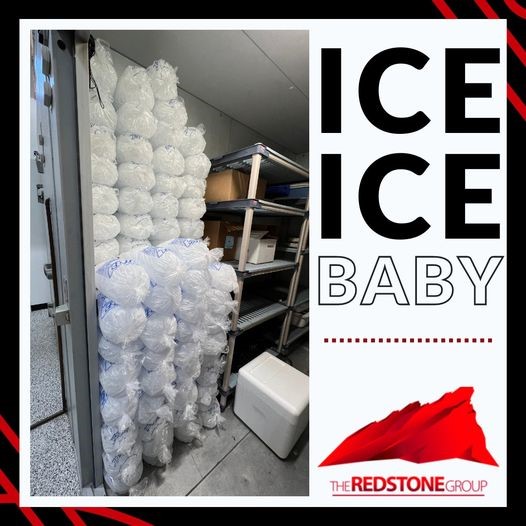 Redstone participates in 2022 Denver Walk to End Hydrocephaslus
We donated over 1,000 lbs of ice for the 2022 Denver Walk to End Hydrocephalus.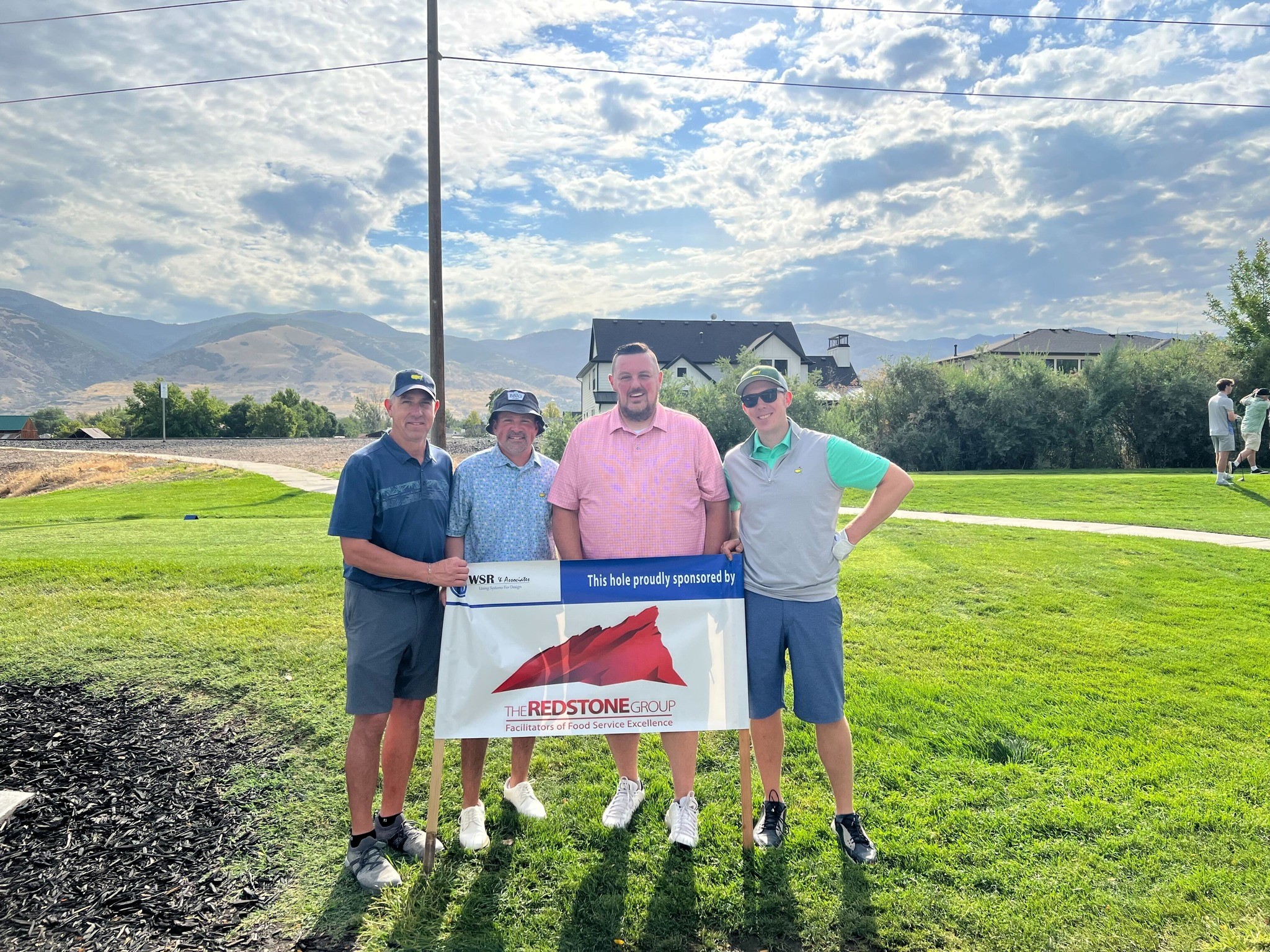 Redstone participates in Golf Tournament
Chris, Steve, Bryce, and Alfred played in the WSR & Associates golf tournament. Redstone sponsored the 8th hole. Funds went to help with scholarships for the Park City culinary institute.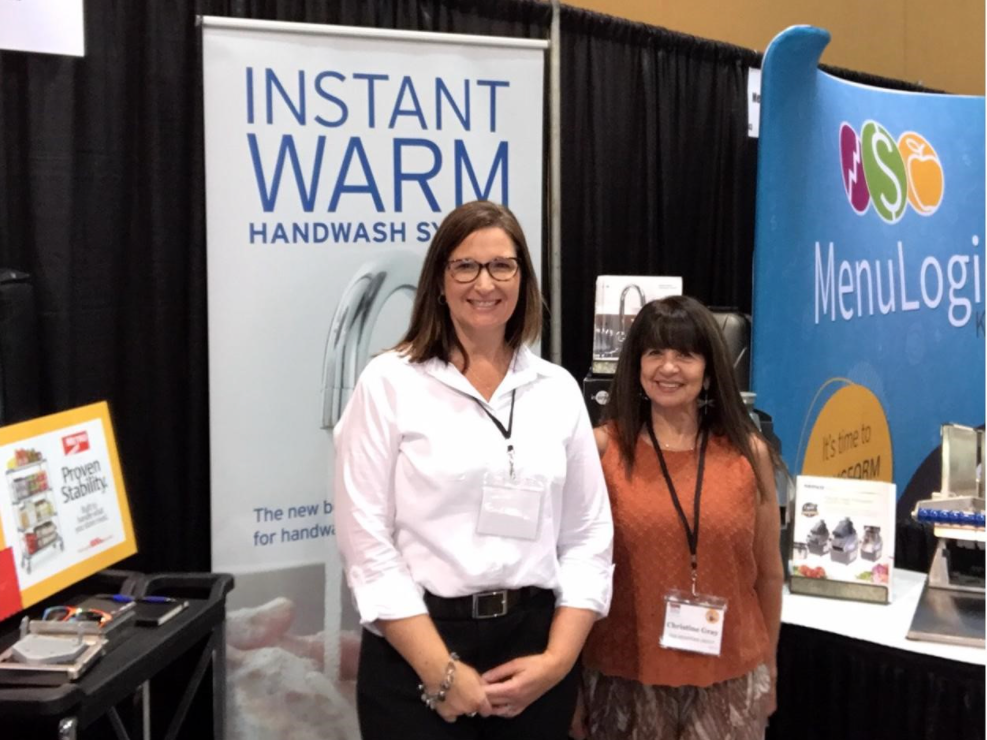 Redstone Exhibits at the Arizona SNA Show
THE HANSEN GROUP NEWS & EVENTS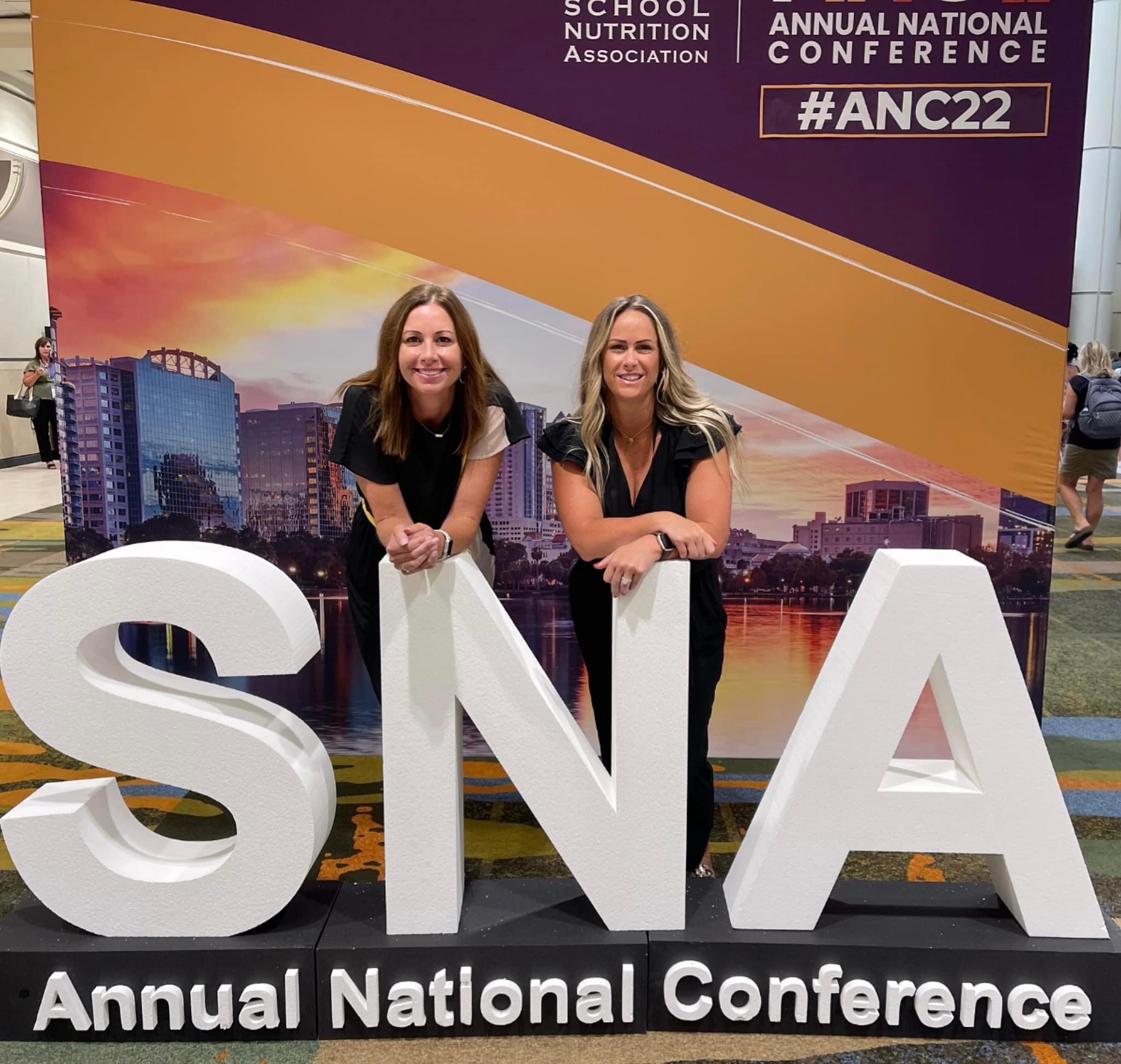 Annual Nation Conference of the School Nutrition Association
This conference unites thousands of school nutrition program operators, industry partners, and allied organizations for an unparalleled educational and networking experience.
Kristin and Lea Ann were able to connect with K12 directors and show off our factory lines, specifically their innovative equipment and solutions that can help efficiently feed our children.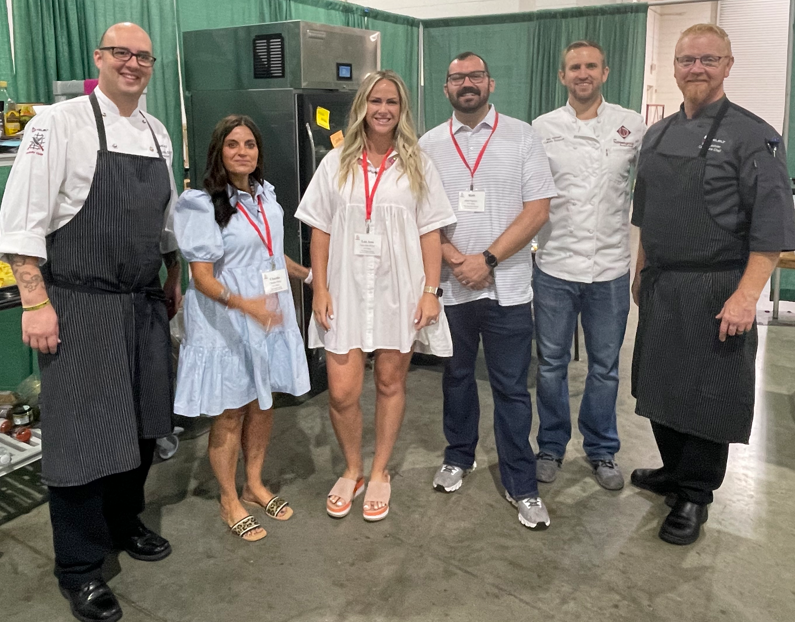 Learning academy focused solely on equipment and kitchen solutions that reduce labor and are innovative
5 learning classes each managed by different in-state dealers featuring different brands of the same category of equipment so by end of day 2.5 directors will have seen 5 different combis, walk-ins, serving lines, tilt skillets, milk boxes and more.
There were 3 cooking categories where our Welbilt chefs showed up and stood out. They developed recipes using the required school food provided to them at the event. They did an awesome job, and we had a great culinary team with Alex Hansen assisting.


Success story of the event:

Lea Ann and Claudia have gotten several orders originating from the event including Cambro CVC carts and walk-in opportunities.
Matt got to meet directors he has not been able to yet and is already making site visits.
Our team built stronger relationships with schools through our time devoted to working with our directors and following up after the event.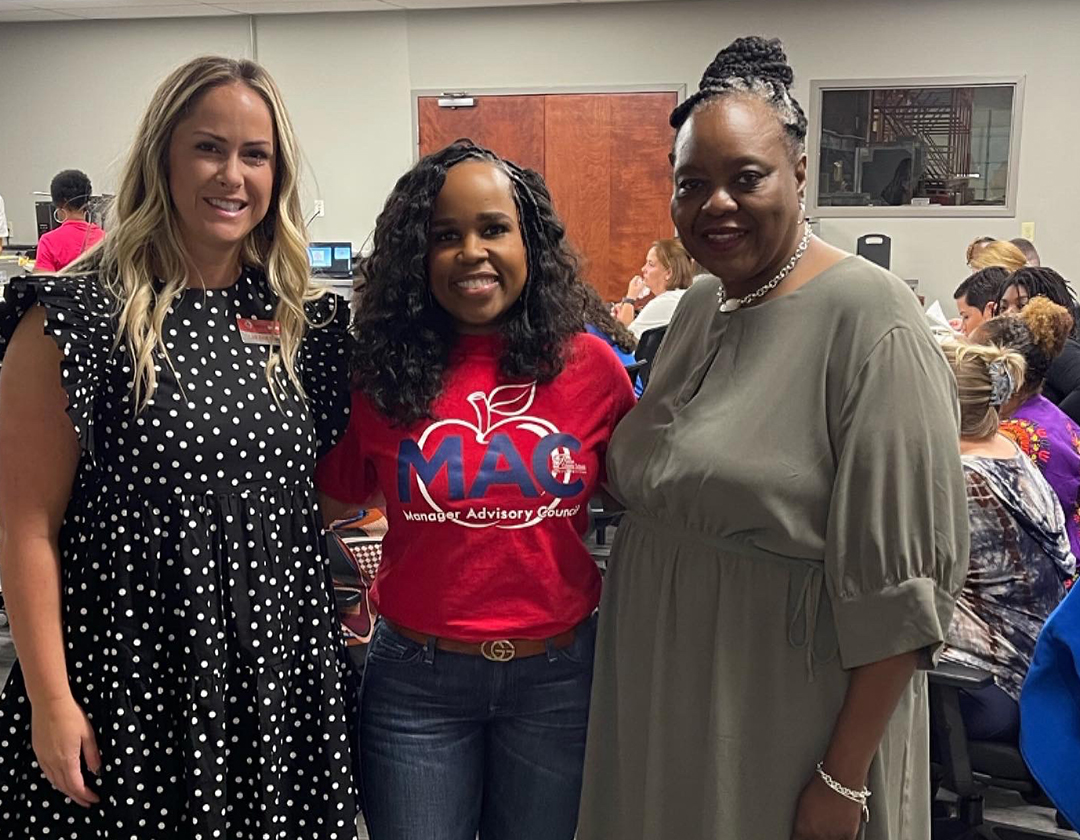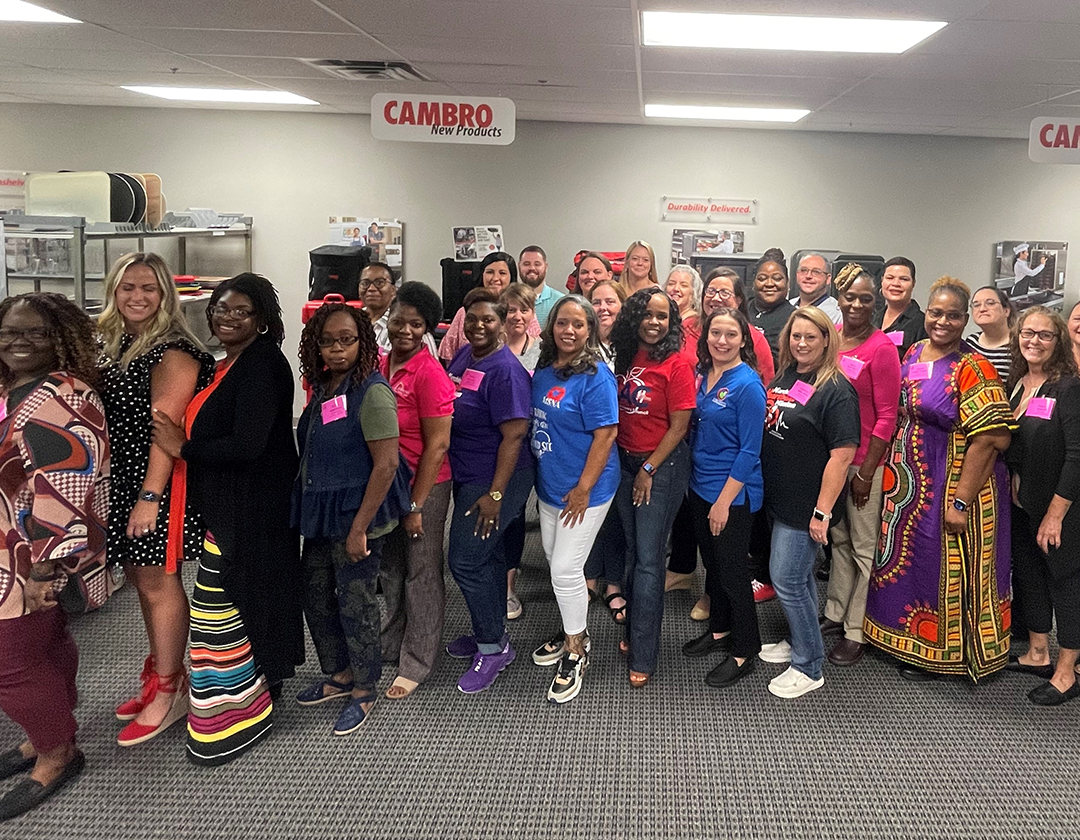 A series of five full-day sessions to pave the way for managers and directors from all over the state of GA to become future leaders within GSNA. The attendees were accepted into the leadership program and will graduate at the end of the course.
Success story of the event: THG hosted the 1st kickoff session. We had a full day of learning, team building, and of course a great meal prepared in our test kitchen.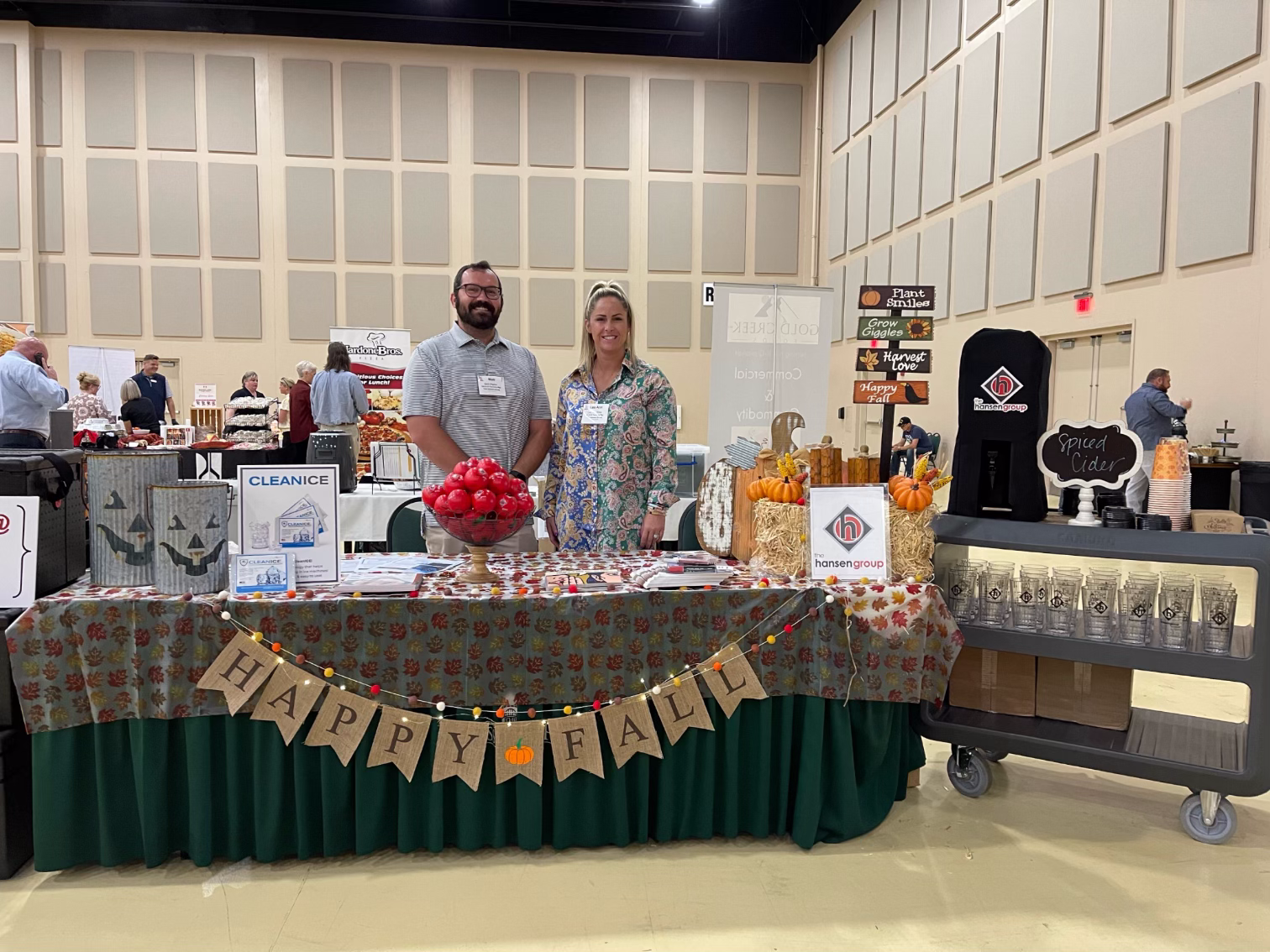 As part of the fall theme, we offered Hot Apple Cider in our THG booth which was a huge hit with the attendees. It was great to be able to have many engaging conversations over a yummy drink. Attendance was the best it's ever been at this show which is always a positive looking into the future.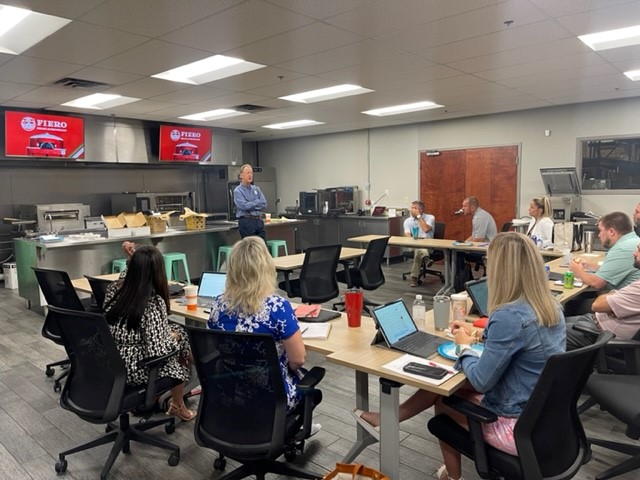 Each member of the THG team is armed with new or reinforced knowledge of each type of Fiero oven, what the best use is for each, as well as the opportunity to help promote dough management equipment. We are ready to sell! We also got not one, but two new pizza ovens to demo in our ATL office and at events!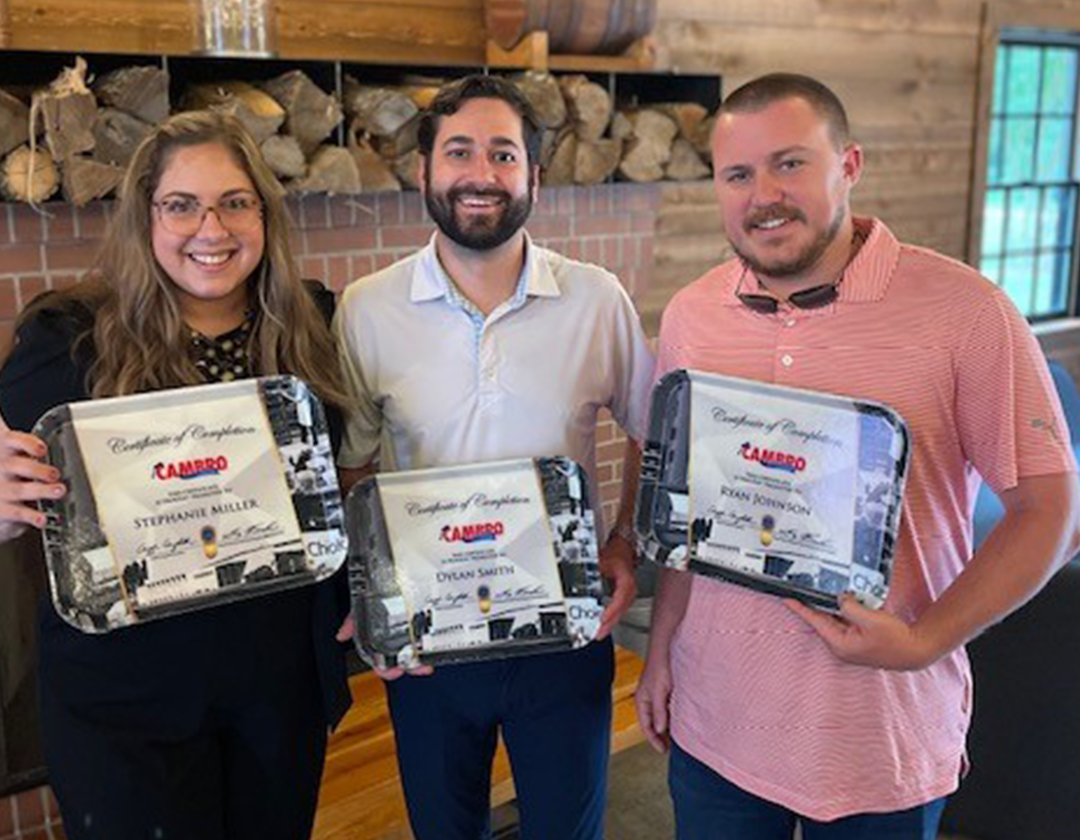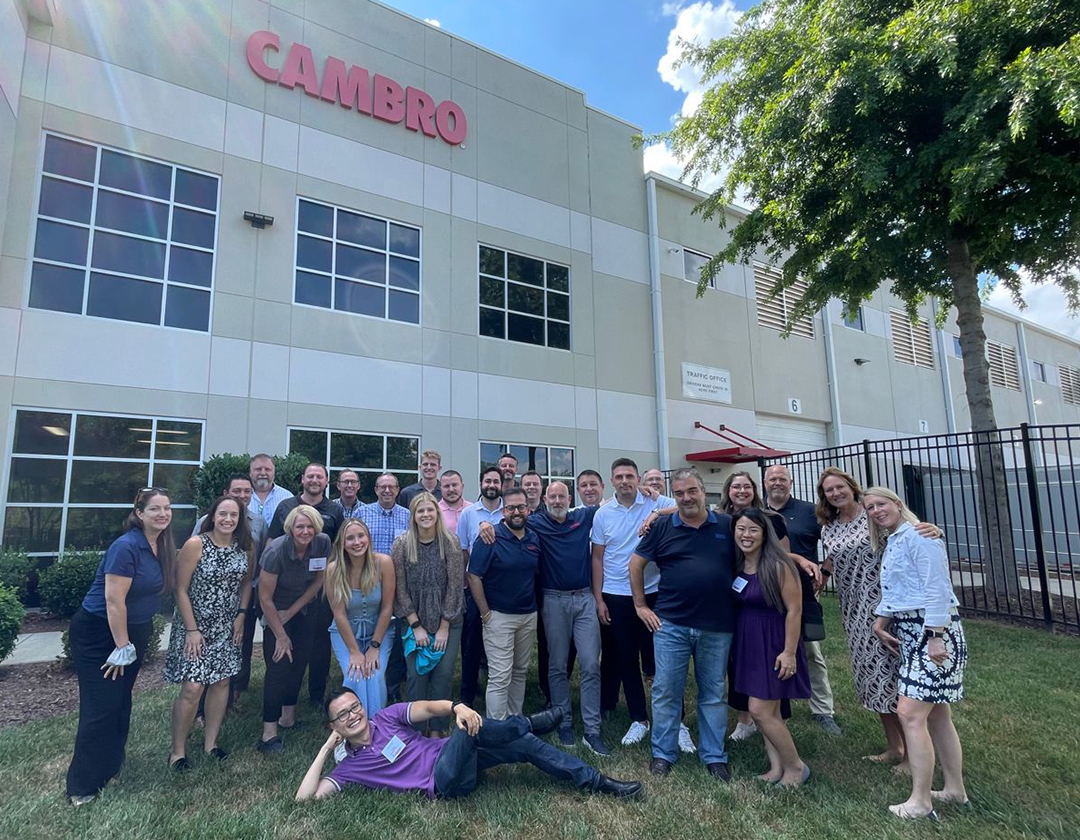 Our THG attendees were able to network and meet many Cambro employees in person. Stephanie especially loved meeting Felix and Adriana, where they got to connect over many marketing topics and brainstorm ideas for THG's marketing of Cambro products. Ryan and Dylan reported the training was extremely in-depth, giving them all the knowledge and pointers on how to best sell and show off Cambro products in the field. It was fascinating to go through the manufacturing facility and see how products are made. They also had a great time attending the Durham Bulls game after training one of the nights!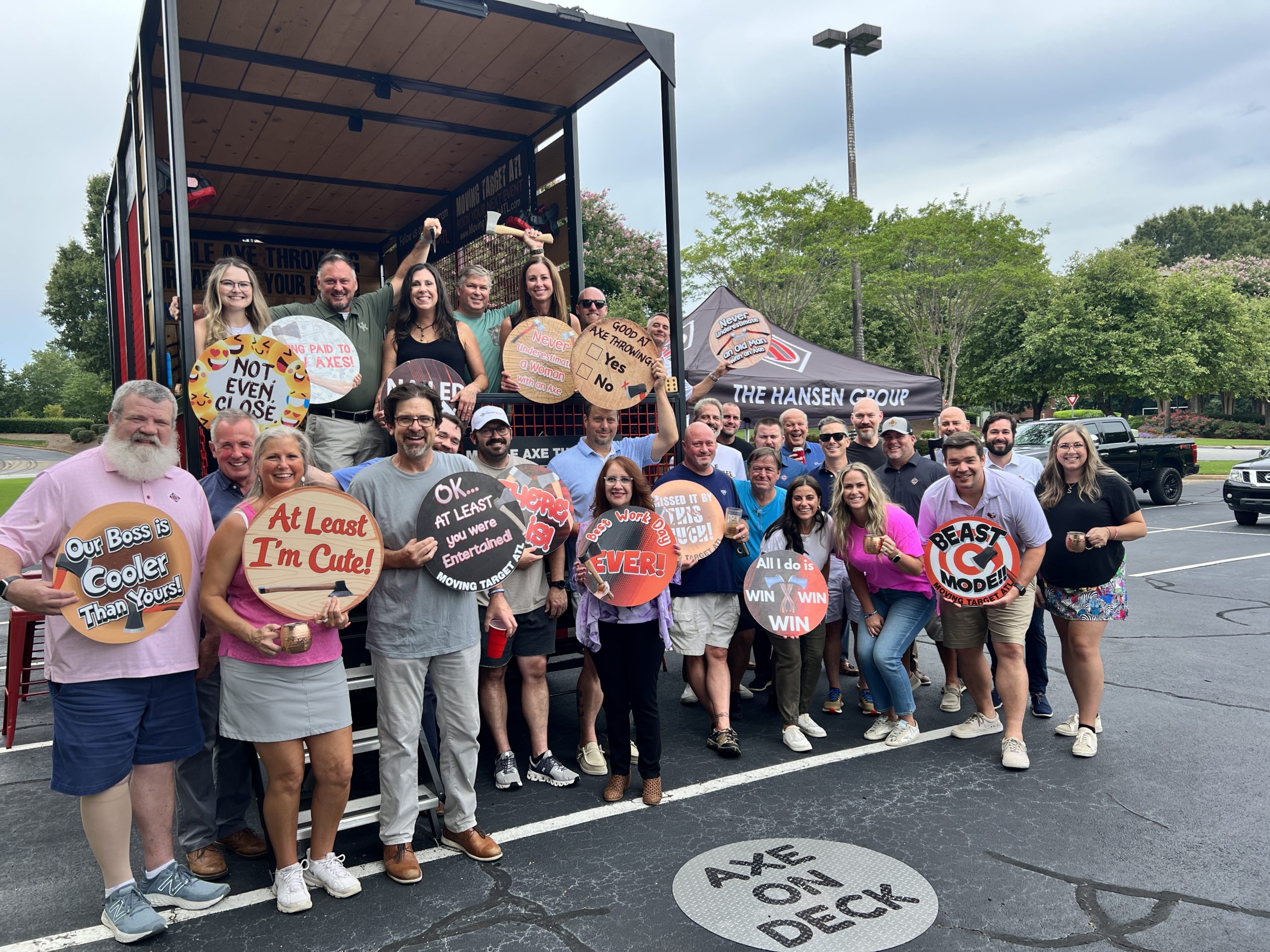 Our team learned the tiny, but important details of water filtration and why it is so significant to the food service industry. We were able to participate in hands-on training to learn each piece of Antunes equipment! We had quite a fun team-building experience with Antunes at the office after training – we had Billy from NFA Burger (Best Burger in ATL several years in a row) making burgers and tots for dinner, Moving Target ATL came and we had some friendly axe-throwing competition, and time to enjoy and get to know each other.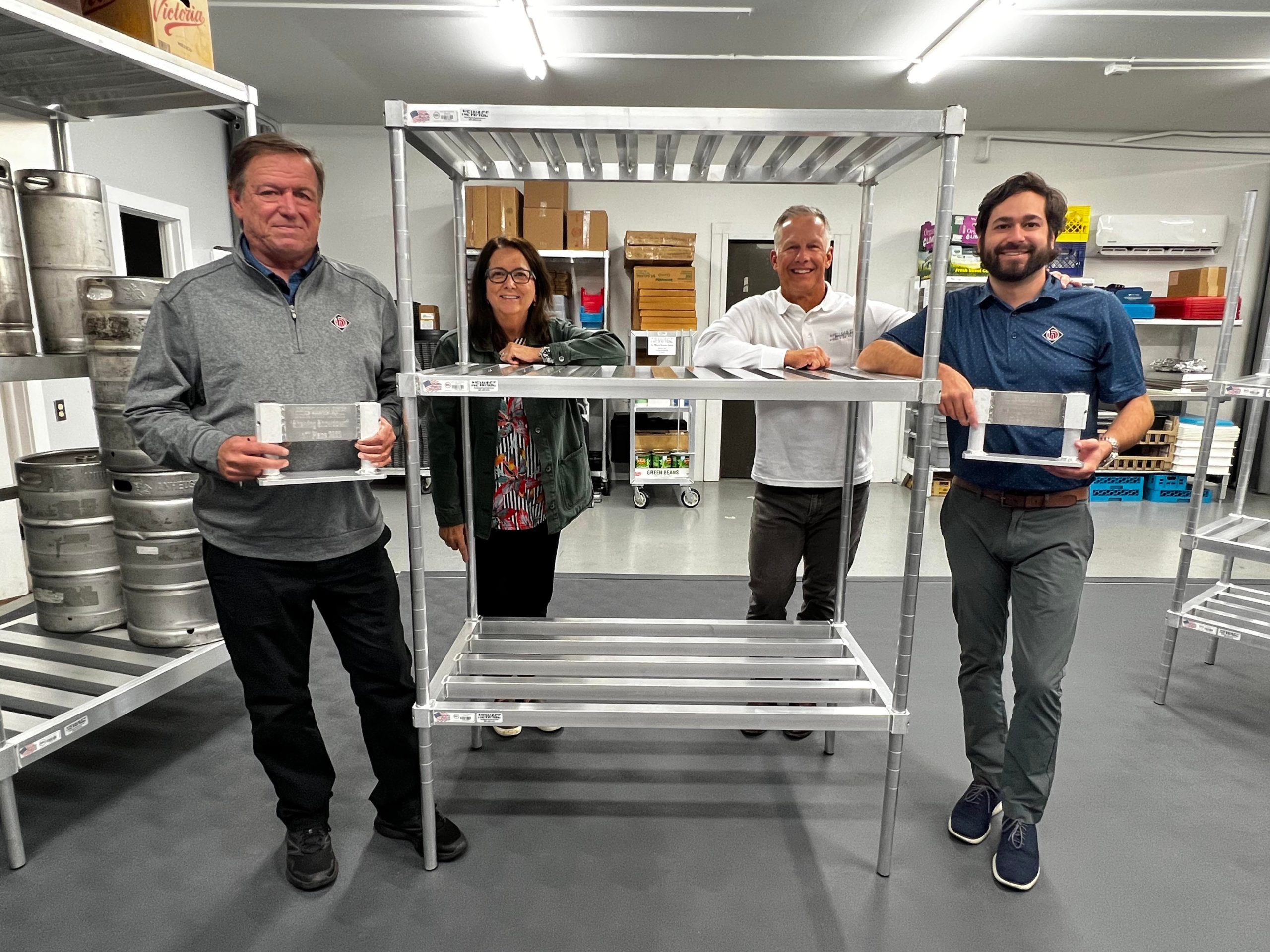 Cathy and Johnny led training that Brad and Dylan attended in Norton, KS.
Success story of the event: Brad and Dylan got to see where products being New Age Industrial products are made, how they are made, and tried their hand at welding. Not only did they take away tons of new knowledge from training, but they also won the shelf-building contest against Paradigm partner employees from KRG!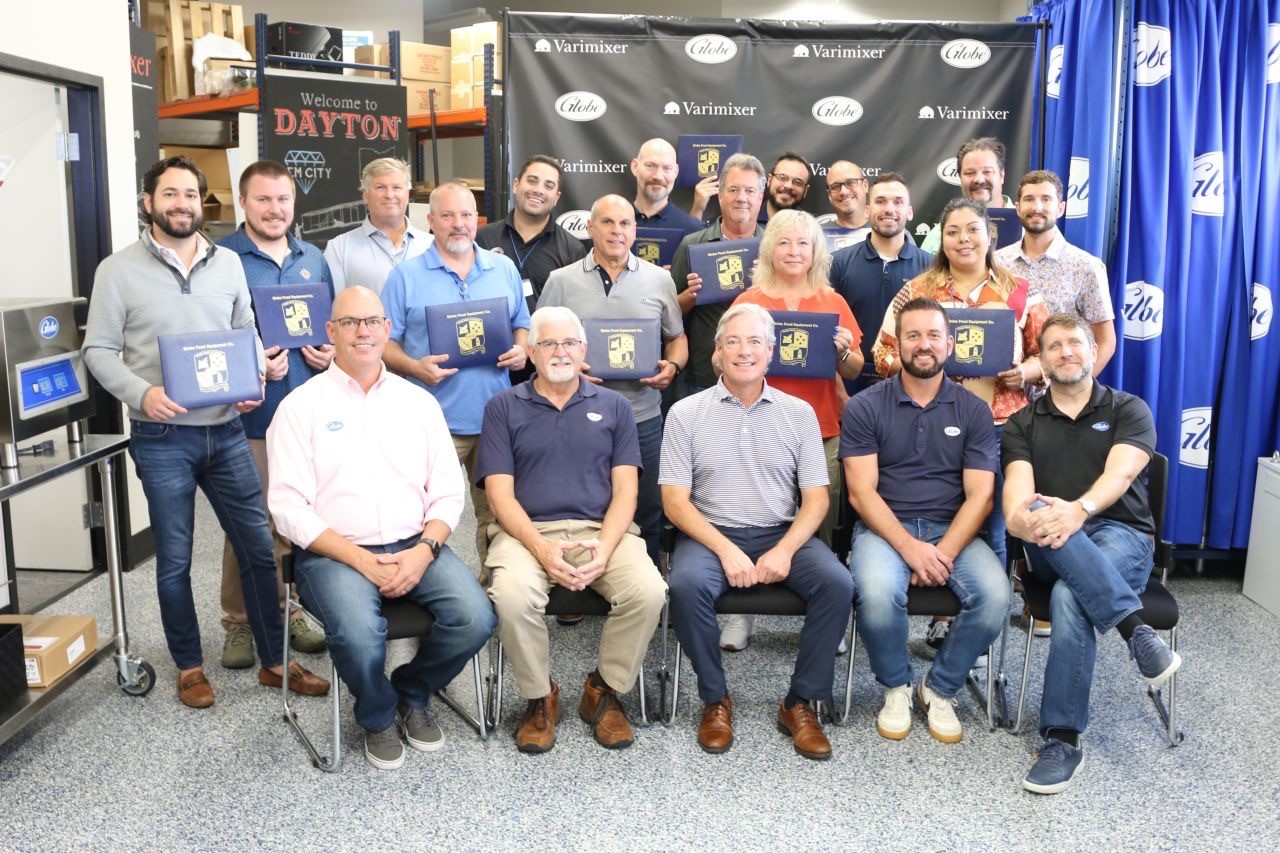 Some of our THG employees traveled to Globe's headquarters and attended a full training.
Success story of the event: Kris, Sloan, Ryan, Dylan, Hilly, and Casey were able to meet our Globe factory partners in person. They participated in hands-on training to learn Globe's different equipment pieces, while preparing lunch for their training group. It is always so valuable to use the equipment and be able to share your positive experiences with customers to sell, sell, sell!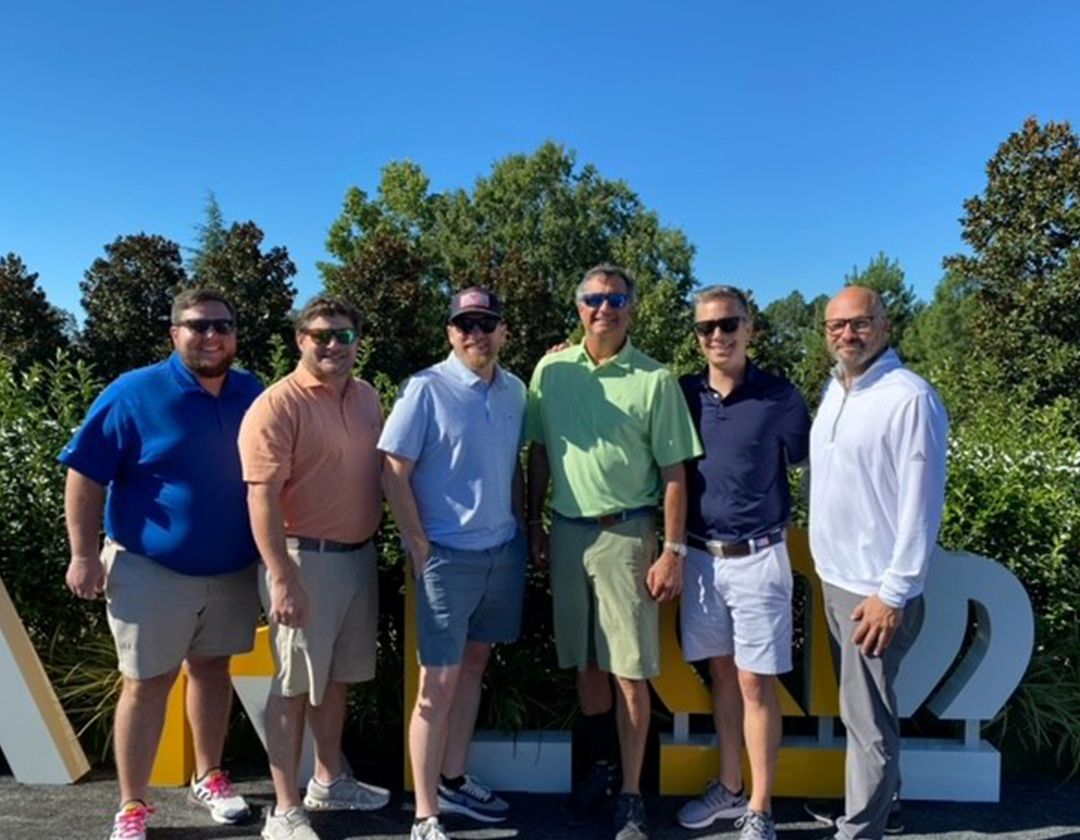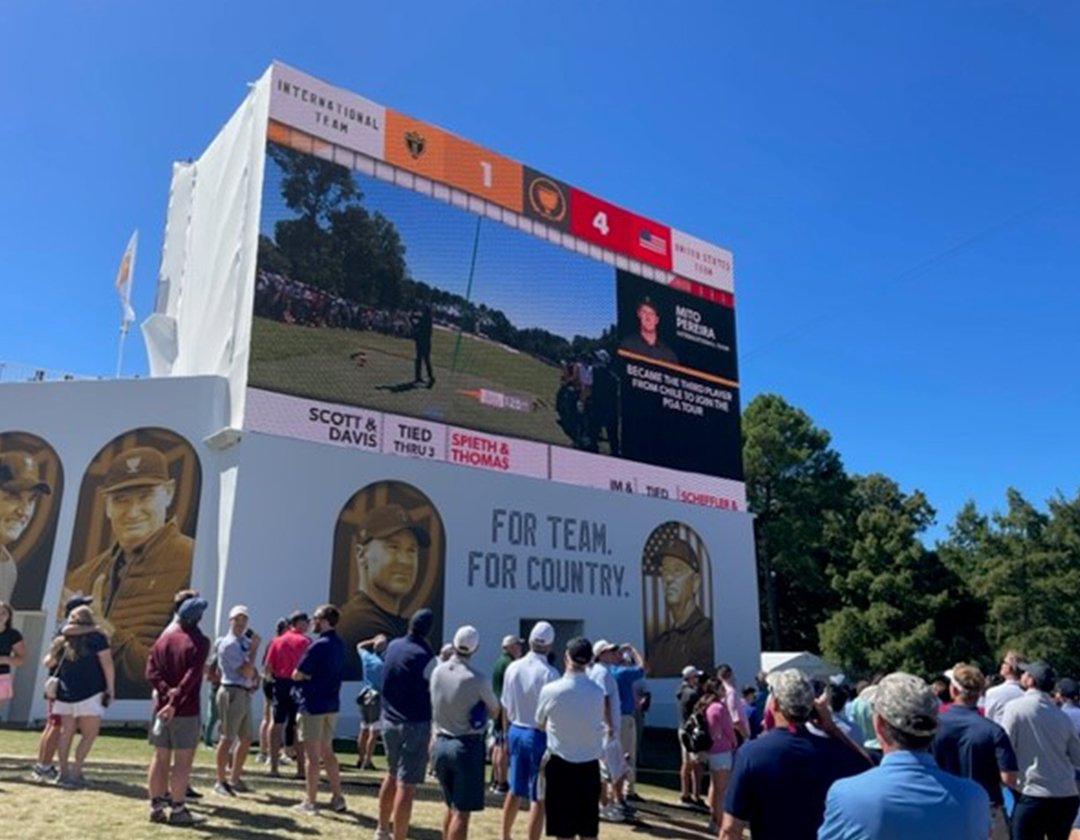 KRG Hosts Customers at President's Cup 2022
KRG hosted the event with customers for 3 days at Quail Hollow Country Club in Charlotte, N.C.
KAIN MCARTHUR NEWS & EVENTS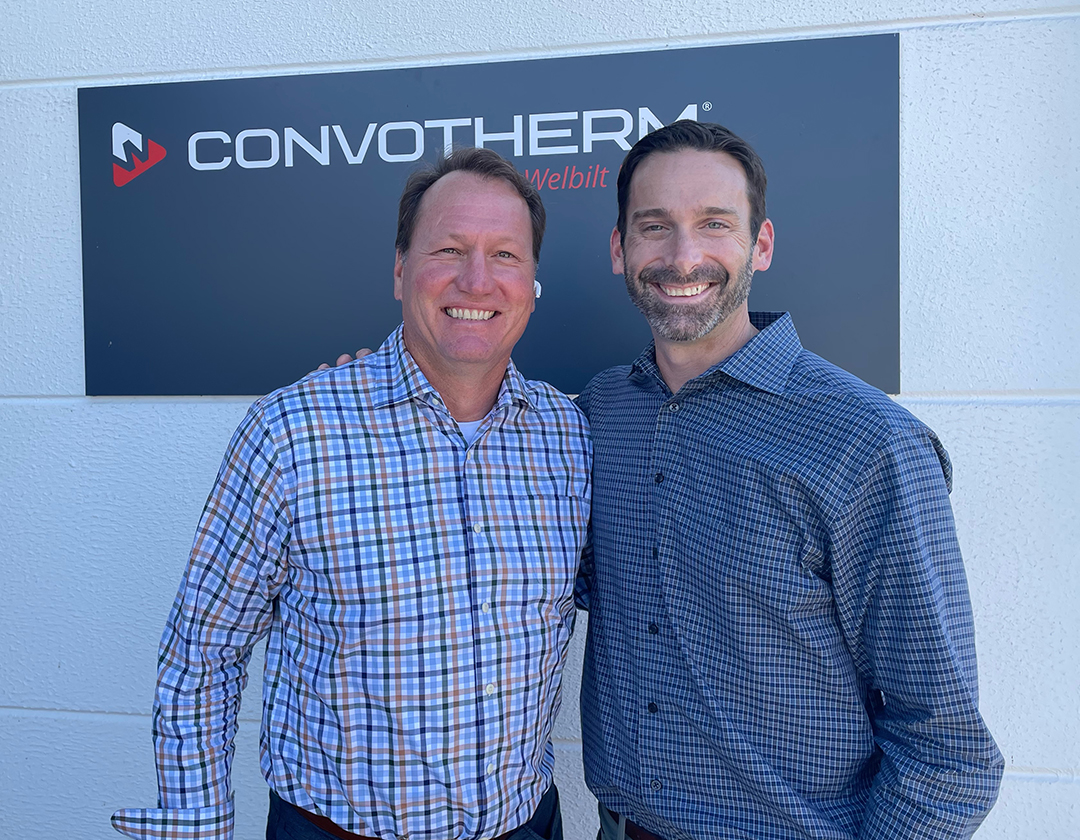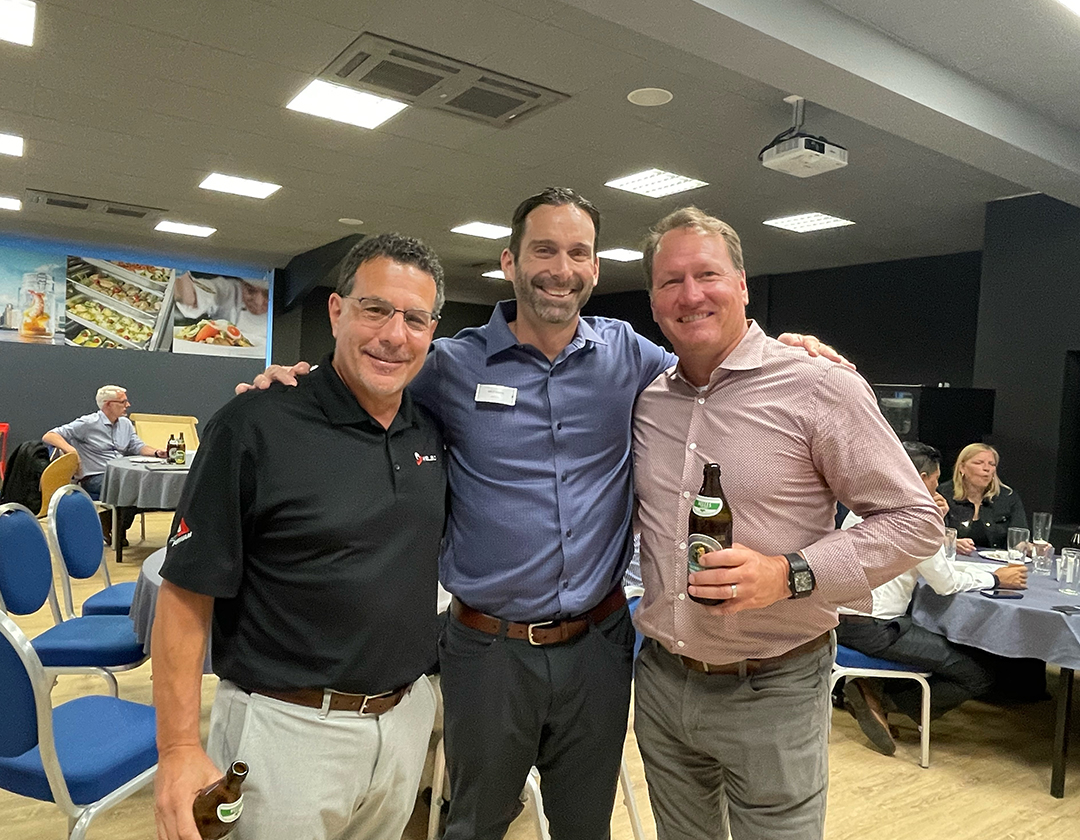 Kain McArthur Attends Global Meeting at Convotherm HQ in Germany
Matt Swain was asked to attend a global meeting at Convotherm's HQ in Germany to offer his insights to the USA market.  Matt was part of an exclusive group that included representatives from around the world.