WELCOME TO PARADIGM!
Paradigm firms offer a strategic way for manufacturers to go-to-market, delivering high performance and improved profitability. It is our relationships and consistency across the market that makes Paradigm member companies an asset and ally for those with whom we do business. Learn more about what Paradigm member companies offer their business partners and how they bring value to the industry, every day.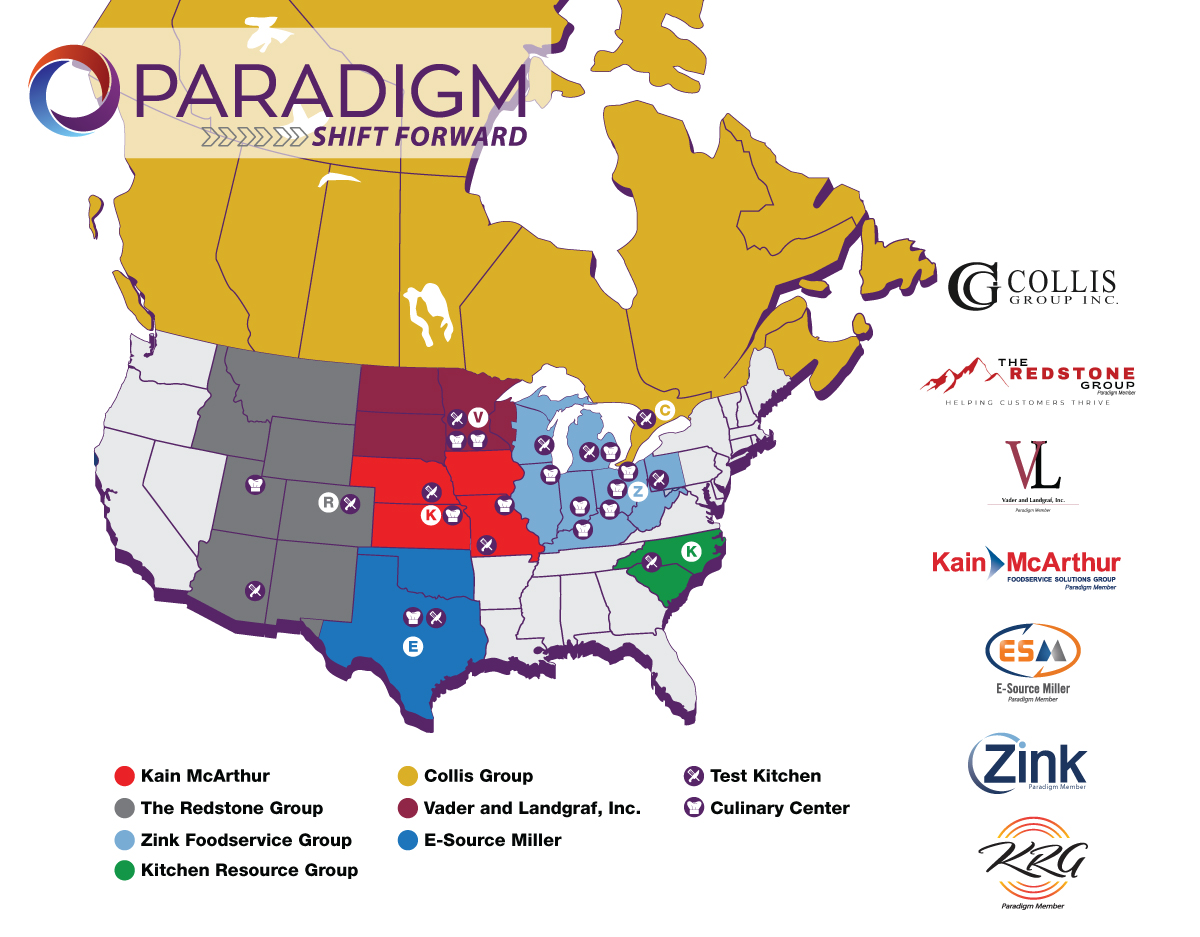 PARTNER HIGHLIGHT
Kain McArthur
About Us
Since 1960 Kain McArthur has led the way in innovation, technology, and facilities, offering expertise and service to the commercial foodservice equipment and supply industry.
We are an all-inclusive service for the manufacturers we represent and the customers we serve. From customized marketing plans, distribution, inventory management and installation, our proven performance shows that we understand the goals of the foodservice industry and bring the highest level of service and integrity to enable you to run an effective, efficient operation.
With Kain McArthur, you can trust you're getting top level Education, Service, Marketing, Communication, Commitment and Proven Performance.
Our Principles and Practices:
We represent only those manufacturers who produce the highest quality, complementary family of product lines.
We identify specific markets and provide effective, individually designed marketing and sales strategies that meet both the manufacturer and customer's needs.
Each member of our team will serve as a resource by providing the Customer with expert knowledge of the products we represent.
We afford every customer the opportunity for hands-on training with each manufacturer's product.
Our Education Centers / Test Kitchens facilitate the training and education for our customers that are unparalleled in the industry.
We continue to maintain flawless communication between our manufactures, customers and sales/support staff. Through collaboration, transparency and trust Paradigm has redefined the standard for multi-line representatives. Our relentless pursuit of excellence aligns our members to create a national organization dedicated to E&S and invested in the success of our stakeholders.
Paradigm operates on the EOS platform and has developed formalized business processes that drive consistency, discipline and accountability around Sales, Marketing and Education. Our proprietary technology, The REV Sales Performance Platform, provides unparalleled Sales Planning, Forecasting and Reporting to create a competitive advantage for our clients.
Through a combined investment in our people, infrastructure, systems and processes Paradigm member companies outperform the market in top line sales, profit margins, forecasting efficiency and client experience.

Newsletter Sign Up
Sign-up here to receive all the latest news from the Paradigm partners.