WELCOME TO PARADIGM!
Paradigm firms offer a strategic way for manufacturers to go-to-market, delivering high performance and improved profitability. It is our relationships and consistency across the market that makes Paradigm member companies an asset and ally for those with whom we do business. Learn more about what Paradigm member companies offer their business partners and how they bring value to the industry, every day.
Next Paradigm Partner Event: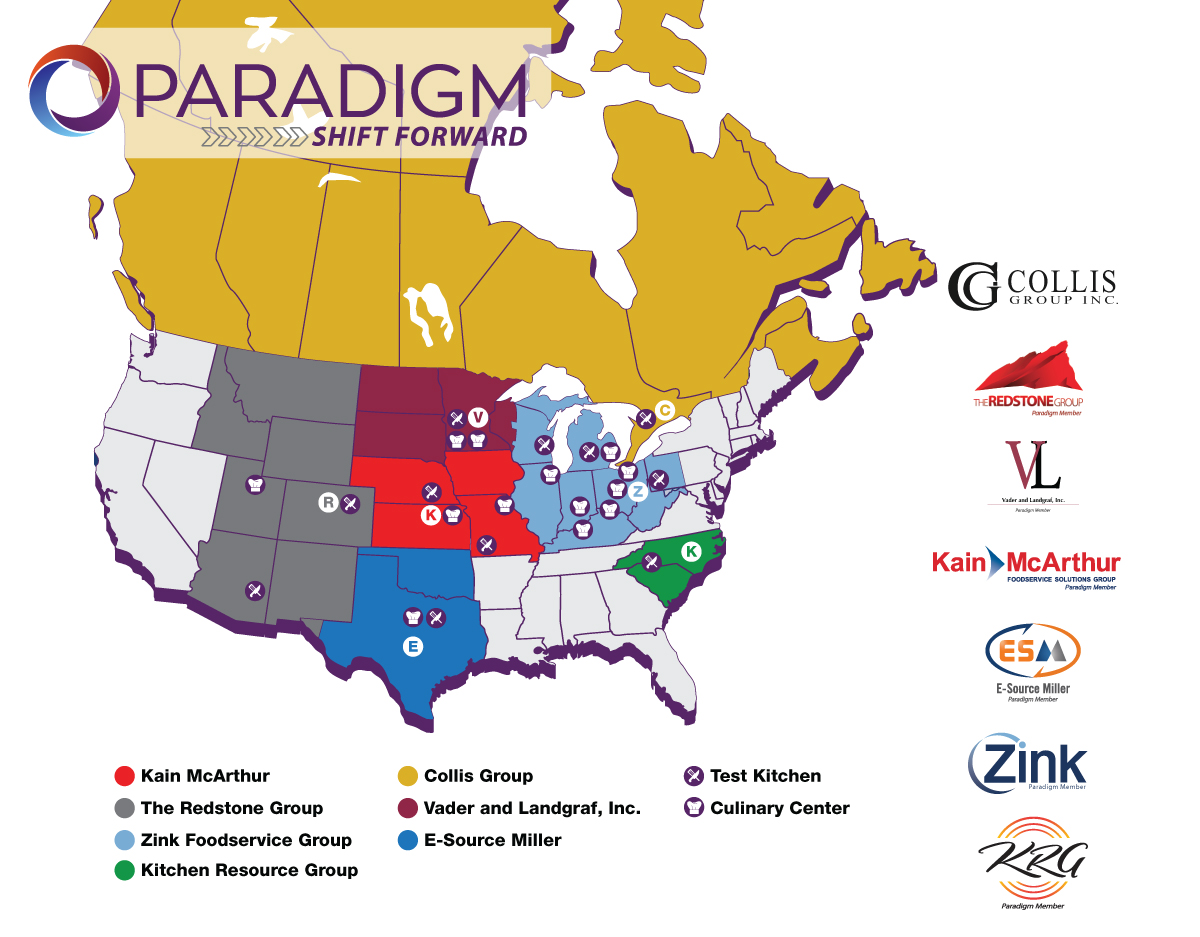 Partner Spotlight
TOTAL CHANNEL COVERAGE
Zink Foodservice supports a premium portfolio of Equipment, Smallwares, Tabletop, Supplies and Furniture across 8 states with 4 Culinary Centers, 9 Test Kitchens and 5 Showrooms.  Our Regional Organizational Structure is comprised of a segmented salesforce of 33 Field Sales Managers supported by a Culinary team, a Marketing team and the industry's largest Client Services/Inside sales group.
INFRASTRUCTURE
Zink Foodservice is an Employee-Owned Company (ESOP) and a founding member of Paradigm.  We provide comprehensive Sales, In-house Marketing, Distribution, Installation, Engineered Product Design and Warehouse consolidation and staging for our Clients.
SYSTEMS
Zink Foodservice operates on the EOS platform and has developed formalized business processes across all areas of the organization.  Zink leverages proprietary technology such as The REV Sales Performance Platform as well as NetSuite and Digital & Direct Marketing Platforms to identify, manage and increase sales and market share for our clients.  All our systems and processes are designed around 3 key criteria: they must be proven, scalable and repeatable.
November 22, 2022: Turkey Fry
December 6, 2022: Experience ESM – Culinary Center
November 11, 2022 – Open House Through collaboration, transparency and trust Paradigm has redefined the standard for multi-line representatives. Our relentless pursuit of excellence aligns our members to create a national organization dedicated to E&S and invested in the success of our stakeholders.
Paradigm operates on the EOS platform and has developed formalized business processes that drive consistency, discipline and accountability around Sales, Marketing and Education. Our proprietary technology, The REV Sales Performance Platform, provides unparalleled Sales Planning, Forecasting and Reporting to create a competitive advantage for our clients.
Through a combined investment in our people, infrastructure, systems and processes Paradigm member companies outperform the market in top line sales, profit margins, forecasting efficiency and client experience.

Newsletter Sign Up
Sign-up here to receive all the latest news from the Paradigm partners.